Taylor Swift—pop overlord and sole owner of the phrase "This sick beat"™—is known for creating magical moments. That's exactly what happened over and over again during this year's 1989 Tour, which featured a revolving door of famous guests—much to our delight and endless enjoyment.
Ana Gasteyer Satirizes the Girl Boss in 'American Auto'
From Gigi Hadid to the venerable Matt LeBlanc, the roughly 70-plus celebrities who enabled Swift on her U.S. tour dates were a mix of those likely planned in advance (a personal phone call or text) and those who agreed last minute. Just how did these beautiful moments come to be? One can only wonder...
Here's a ranking of each 1989 U.S. tour guest based on how eager they (probably) were to participate and their reasons/motives for being there.
---
1. Lena Dunham - Feminist friend to all, Lena loves herself some Swift. So much so that she was willing to appear as the fifth wheel next to the BFF squad in East Rutherford, New Jersey. It took absolutely zero convincing and it looks like everyone had fun!

G/O Media may get a commission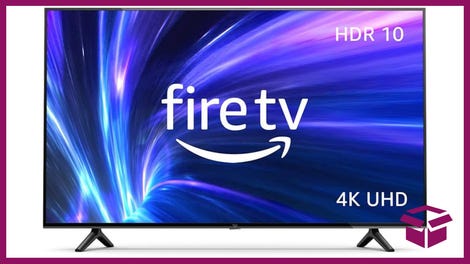 42% Off
Amazon Fire TV 50" 4K Smart TV
2. Gigi Hadid - As part of her friendship obligations, Gigi signed her name in blood confirming that she'd "pop up" at exactly three designated tour locations: East Rutherford, Detroit and London. Good pal.
3. Pitbull - Mr. Worldwide performed a duet of "Give Me Everything" with Taylor and could not have been happier to participate. Just part of my duties as Mayor of Miami, he thought to himself.
4. Karlie Kloss - She's one of Taylor's closest sidekicks and wasn't missing this for anything. Taylor can ask her for anything. She'd do anything for Taylor Swift.
5. Selena Gomez - In a tour video clip that featured several of Taylor's real best friends, Selena said, "Having a good group of girls? It's the best thing ever." It is. You can't argue with that.
6. Jason Derulo - Taylor: "Hey, Jayson, do you—"
Jayson: "It's JAY-son DeRUUUUUULo!"
Taylor: "[Laughs] You're hilarious. Wanna perform with me?
Jayson: "Yes... If I can take my shirt off."
7. Kendall Jenner - Kendall walked a makeshift runway on stage during "Style," which is the part of the show where Taylor brings out guests who have no musical talent.
8. Serayah - The Empire star had no idea that she'd agreed to a tour appearance under Taylor's friendship contract. She simply pressed the "Agree" button in an email from Taylor...
9. Cara Delevingne - Obligated to appear as part of aforementioned friend contract.
10. Ricky Martin - Why wouldn't he do it?
11. Hailee Steinfeld - Seems to genuinely like Taylor Swift.
12. Ciara - After sighing and asking Russell Wilson whether he was ready to have sex yet, Ciara got a call from Taylor to join her in Seattle. Ciara yelled over the phone, with Russell in the other room: "Of course! Because, I have nothing else to do!"
13. Russell Wilson - It was date night.
14. Justin Timberlake - Taylor asked Justin in person and he responded with a wide grin and a knowing look. Closing his eyes, he nodded, smiled, rolled his eyes playfully and whispered, "Yes. Of course."
15. World Cup U.S. Women's Soccer team - Having just won the World Cup, the team was still high on endorphins and unsure where they were.

16. Nelly - Had plans to hit up Costco. Cancelled them and kicked off his house slippers to join Taylor in performing "Hot in Herre" in St. Louis.
17. Ellen DeGeneres - Did it for the love of dance.
18. Heidi Klum - This is a person who commissions an elaborate costume every Halloween for absolutely no reason. Of course she said yes.
19. Fifth Harmony - Girl power made them do it.
20. Martha Hunt - Hangs with Swif on the reg.
21. Matt LeBlanc - He really needed this...

22. Nick Jonas - Liked the food backstage.
23. Alessia Cara - As new blood in the music game, Alessia jumped at the opportunity to perform her breakout "Here," though she was a bit surprised when Taylor preceded the request by asking, "So how's your blood?"
24. Lily Aldridge - Another member of Taylor's best friends coven bound by blood, tears and a binding contract.
25. John Legend - This guy just loves to perform.

26. Fetty Wap - It's pretty obvious why he participated. The zombies told him to...
27. Rachel Platten - I have no idea who this is.

28. Candice Swanepoel - Was teleported on stage.
29. The Weeknd - Abel was in a really bad mood before Taylor reached out and asked him to pitch in on her Jersey stop. Weeknd let out a high-pitched wail and told her, "Don't worry."
30. Steven Tyler - Merely enjoys the feeling of warm lights on his body.

31. Little Mix - They thought it would be cool and, lo and behold, it was.
32. Idina Menzel - Got lost in Tampa and happened to be there. Luckily, Taylor had this costume stowed away (Calvin Harris knows about it ;)).

33. Mariska Hargitay - Needed a break.

34. Beck - He's the type person who likes to have friends in high places and likes to say, "I like to have friends in high places."
35. Dwyane Wade - The Miami Heat star just really wanted to wear this outfit in front of a lot of people. Success.
36. Alanis Morissette - Agreed to perform "You Oughta Know" on Taylor's L.A. stop after Googling "Taylor Swift," closing her eyes and feeling like Taylor had a good aura about her.
37. Avril Lavigne - Felt really good that night.
38. Wiz Khalifa - He was incredibly sad about losing his vape and needed a mood boost.
39. Mary J. Blige - Was in a giving mood that day.
40. Dan Reynolds, of Imagine Dragons - Who is this?

41. St. Vincent - Was going through a lot and Taylor's approval made her feel appreciated.
42. Dierks Bentley - He was just going to play Jenga but had a hard time deciding. Then got the call from Taylor. Looked at his Jenga set for a few minutes, then told her "Yes."
43. Ryan Tedder, of OneRepublic - Bored that night.
44. Mick Jagger - Loves yelling and felt Taylor would be a great person to do that with.
45. Leona Lewis - Spent 20 minutes trying to think of something better to do before realizing she had literally zero other plans, as in negative plans.
46. Keith Urban - Really wanted to support Taylor Swift, who's a fan of The Voice, which comes on Mondays and Tuesdays at 8 p.m. on Fox.
47. Miranda Lambert - Loves country and loves even more to put on a show.
48. Charli XCX - Figured she kinda had to say yes.
49. Sydney Sierota, of Echosmith - I don't know who this is.
50. Ellie Goulding - Couldn't have cared less but was on her way to a party in Arlington, Texas, and figured she might as bloody well.

51. Lorde - Yes, it would appear that Lorde is a good friend of Taylor's and would jump at the chance... But that's all part of the plan...
52. The Band Perry - One of them didn't want to do it, but they played Rock, Paper, Scissors and that person got overruled.
53-63. Andy Grammer, Andrea Pejic, Kelsea Ballerini, Lily M. Donaldson, Sam Hunt, Walk the Moon, Tovo Lo, MKTO, Nico & Vinz, Natalie Maines, Alison Kraus - Cannot stand Taylor Swift, but knew they couldn't say no.

64. Sean O'Pry - Really just wanted to stand next to Matt LeBlanc and Chris Rock. Taylor was an afterthought.
65. OMI - Clearly had no idea where he was, nor who this white woman was.

66. Chris Rock - Wandered backstage and got lost.
67. Behati Prinsloo - Thought she was agreeing to something else.
68. Kobe Bryant - He was really tired and in the middle of an ice bath, but Taylor asked nicely.
69. Joan Baez - Taylor kidnapped her cat and held it for ransom.

70. Little Big Town - Really did not want to do this.
71. Uzo Aduba - While giddy on the surface, Uzo spent every waking second screaming internally, "I hate this wommmaaannn!"
72. Lisa Kudrow - Figured it'd be a good opportunity to revive "Smelly Cat" to help sell the remix she's currently recording.
73. Julia Roberts - Inexplicable.
74. Serena Williams - She really didn't want to do this but...ah, what the hell?
---
Contact the author at clover@jezebel.com.
Images via Getty, Instagram