On Friday, a Chicago artist and urban planner by the name of Chris Devins wrapped up a large mural of Michelle Obama dressed as an Egyptian queen, located a few blocks from Michelle's childhood home. The completed mural was the endgame of a GoFundMe Devins launched in November that raised a few thousand dollars more than expected, for a total of $11,785, a success story by any measure, except for that of blatant, entitled plagiarism.

It turns out that the mural is a near perfect imitation, down to the color scheme, of a painting created by black female artist Gelila Lila Mesfin, who came across Devins' mural in a DNAinfo Chicago article, in which the devious copycat calmly takes complete credit for the artistic image. "I wanted to present her as what I think she is, so she's clothed as an Egyptian queen. I thought that was appropriate," said Devins (emphasis mine).
So Mesfin took her predicament to Instagram, writing that Devins, "didn't think that stealing a young girl's artwork and making a profit out of it does more damage than good."

Mesfin had posted her original painting of Michelle on November 4, just four days before Devins created his GoFundMe account to profit off this great new idea he exclusively had.
G/O Media may get a commission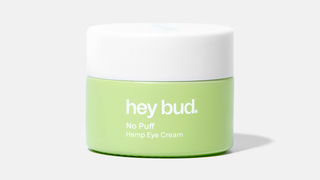 15% off
Hey Bud - No Puff Hemp Eye Cream
According to Okayplayer, Devins did a smug half-apology on his Twitter account, though the tweets have since been deleted. In the series of tweets, Devin wrote, "our nonprofit urban panning projects often include paintings inspired by found images Thank you east africana girl" (Mesfin's Instagram handle is "thick_east_african_girl"). This rather colonialist word choice implies that Mesflin's art was somehow there for the taking, to be "found" or "stolen" without attribution.
In an update to the DNAinfo article, Devins, whose mother is black, admitted that his handling of the situation was "sloppy" and claimed he'd offered Mesfin a licensing fee. "We did not intend to claim authorship, only inspiration," Devins maintained.
Mesfin wrote on Instagram on Saturday that she'd been in touch with Devins, "in hopes of resolving this issue in an applicable and professional manner."