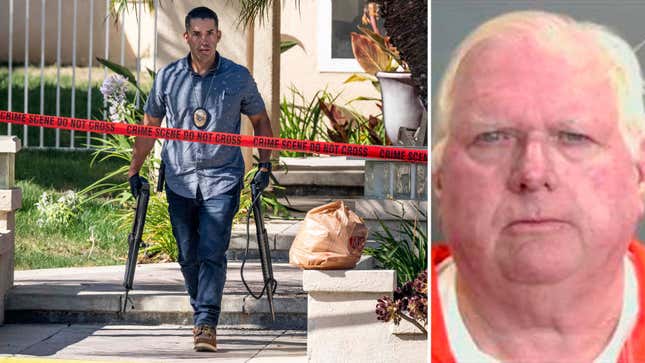 On August 3, Judge Jeffrey Ferguson and his wife, Sheryl, argued over dinner at a restaurant near their house in Anaheim Hills. The disagreement continued after they left the restaurant and returned home, culminating in the 72-year-old pulling a .40-caliber pistol from an ankle holster and shooting his wife at close range through "the center chest" in front of their adult son.
"I just lost it," the Orange County Superior Court judge texted his court clerk and bailiff minutes after the shooting, per court documents. "I just shot my wife. I won't be in tomorrow. I will be in custody. I am so sorry."
According to the District Attorney's Office, the Fergusons' son called 911 after the incident and told the operator that his father was intoxicated and that he was unable to stabilize his mother. Then Ferguson himself called 911 to report that his wife had been shot, court records state. When the operator asked if he had been the one to shoot his wife, the judge responded "that he did not want to talk about it now," per court documents.
Somehow, the story gets more shocking: Prosecutors claim that the judge first threatened to shoot his wife during their fight at the restaurant by pointing his finger at her in a "manner mimicking a firearm." When the couple returned home and continued to fight, Sheryl then reportedly said, "Why don't you point a real gun at me?"
Upon arrest, per a transcribed portion of body camera footage, Ferguson remarked to police, "Well, I guess I'm done for a while." Court records note that Ferguson also said, "Oh, my God…my son…my son," and, "Oh, man, I can't believe I did this."
The Fergusons' son didn't recall domestic violence in the household when interviewed by investigators but noted that his father showed signs of a temper when under the influence of alcohol. He also made mention of other incidents involving his father's guns in the home—one of which was an accidental discharge, and the other in which his mother had claimed she saw Ferguson with a gun to his head and had to discourage his suicidal ideations.
After Ferguson was taken in custody, a police search of the family's home revealed he owned 48 firearms (rifles, shotguns and handguns) and more than 26,000 rounds of ammunition, according to prosecutors. Ferguson's firearms were all legally owned. He was arrested and swiftly released on $1 million bail, and he's since been charged with three felonies: murder, the discharge of a firearm causing death, and personally using a firearm. If convicted of all three counts, Ferguson faces 40 years to life in prison, according to the DA's office.
It sounds like he's now trying to set the stage for a not guilty plea. "This is a tragedy for the entire Ferguson family," his attorneys told CNN. "It was an accident and nothing more."