On Friday, a new vegan cafe named Handsome Her opened in a suburb of Melbourne. They posted their house rules on a chalkboard: women have priority seating, men pay an 18% tax, and respect goes both ways. Solid.
Ana Gasteyer Satirizes the Girl Boss in 'American Auto'
NPR reports that Rule #2 has obviously attracted the most attention. For the record, it's optional, though that's not stated explicitly on the chalkboard featured on the tweet, which is obviously causing a froth online:
According to Australia's ABC, the tax is intended to reflect Australia's gender wage disparity between men and women in 2016, as a conversation starter. All proceeds are sent to Elizabeth Morgan House, which offers services to Aboriginal women.
The owner of Handsome Her, Alexandra O'Brien, has posted to Facebook that the notoriety of the tax has been a mixed blessing: they've gotten an overwhelming amount of in-person support at the cafe, even from men driving some distance to pay the tax, but they've also had to batten down the hatches on social media:
G/O Media may get a commission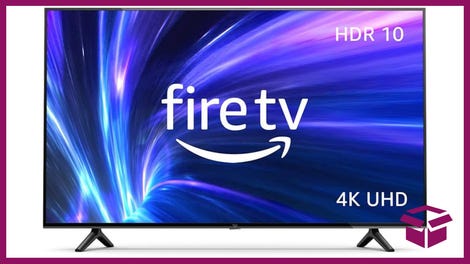 42% Off
Amazon Fire TV 50" 4K Smart TV
The owners actually raised eyebrows before they even opened their doors, according to The New York Times, when they announced an "Emergency Mug Wall" that was asking for donations so people could avoid using take out cups for coffee. Folks who stay and use the mugs are offered a discount. Not sure if that discount is less for men.
As someone who likes to linger, a reusable mug I don't have to pay $12 for every time I forget mine sounds like a great idea. Unsurprisingly, I am also in support of this man tax. Men tax me all the time, especially my patience. If I have to pay a tax on tampons because The Man can't handle my free bleeding, the least he can do is contribute 50 cents to a good cause. Order a large, and shut the hell up!