During her 12-year tenure at Fox News, Megyn Kelly became a high-profile figure at an organization that quite effectively, if inaccurately, framed itself as the lone truth-teller in a biased and insidiously "liberal mainstream media" landscape, one that Kelly is about to join in a broad new position with NBC News.

In a statement on his new hire, Andrew Lack, Chairman of the NBCUniversal News Group, called Kelly "an exceptional journalist and news anchor, who has had an extraordinary career." Megyn Kelly is indeed hugely successful. The Kelly File is cable news' second-most popular program, and she was left apparently untouched by a string of events—a long public feud with the GOP nominee, open tension with colleagues Bill O'Reilly and Sean Hannity, sexual harassment allegations against Roger Ailes—some of which might (and appear to) have undermined other women at the famously retrograde network. Her book Settle for More has remained on the New York Times bestseller list since its November release, and Fox News reportedly offered her over $20 million to stay on, despite her uneasy standing with Trump fans.
"Exceptional journalist" is another story, of course. Although Kelly has a more robust appetite for pushing back against bluster and falsehood than some of her Fox News colleagues, that is a fantastically low bar. She's frequently slanted her observations to inflame white racial anxiety, and recently sat on newsworthy revelations about Donald Trump in order to sell Settle for More, which came out after election day. These revelations included the implication that Trump may have poisoned her prior to the first GOP debate, an implication she denied making after he was elected president.
Despite her own cozy relationship with bias, the Kelly File host has contributed to Fox News' mission to confuse viewers into considering it the gold standard of journalistic ethics. Over the years she has discussed NBC's editorial decisions in less than positive terms, framed within Fox's broader us-against-them media ethos; she's criticized the network for, among other things, "friendly" interviews with Obama, not talking enough about Juanita Broaddrick or Rev. Jeremiah Wright or why Obamacare is terrible, and decisions related to the Brian Williams scandal:
"I think [Trump] raises an interesting point about NBC," she said in a June 2015 segment of The Kelly File, referencing NBC's decision to end its business relationship with Trump after the then-GOP candidate referred to Mexican immigrants as rapists. "Because Donald Trump came out tonight and said, 'Respect and dignity for the people? They keep Brian Williams?' He says, 'he is a proven liar and yet, I have to go because I said this?'"
G/O Media may get a commission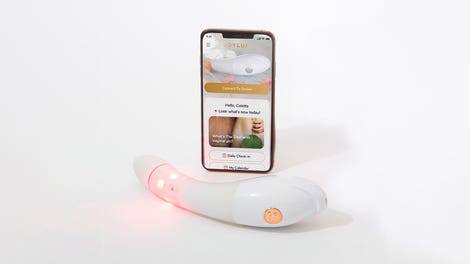 $50 Off
Joylux vFit Gold Device
(And although this particular strain of awkwardness is pretty standard in the media world, Kelly has also taken swipes at the reporting of future colleagues Savannah Guthrie and Chuck Todd, who have both sent out tweets heralding her arrival.)
Exercising more savvy than colleagues like Bill O'Reilly, who has been openly and loudly accusing NBC and other outlets of the aforementioned "liberal bias" for the better part of a decade, Kelly has made her point mostly through pointed questions, sarcastic replies and well-placed scoffs in segments with guests like "media critic" Brent Bozell, who elsewhere has likened President Obama to a "skinny, ghetto crackhead" and claimed that Hollywood is full of "evangelists for a revolution of sexual immorality."

"Is it true, before I let you go, Brent, that NBC Nightly did not cover their own polls on 54 percent of the country?" Kelly asked Bozell in a June 19, 2014 segment about the IRS targeting controversy.
"Yeah, yeah," he replied. "But this is not the first time it happens. When it is a poll that's negative to the person they support, they just don't cover it. Why the heck did they pay for it."
"Well, we covered it," Kelly said.
Although media criticism is certainly no crime, and Kelly's occasionally justifiable jabs at NBC shouldn't affect her future at that network, it's bizarre to watch a professional agitator switch teams, murmuring about the dangers of agitation:
"We're in a dangerous phase right now, where too many millions of Americans aren't listening at all to what the press tells them," Kelly told NPR's Terry Gross on a December episode of Fresh Air.
Where Kelly will position herself ideologically during her tenure at NBC—and how Fox will recalibrate following her loss—is still to be determined, but radical cynicism probably isn't going anywhere. 
Video by Melissa Murray.