Reuters: "It is a tale of unimaginable wealth, high society glamour, low politics, tax havens and a family feud, with declarations of high moral purpose undermined by mutinous servants." In other words, French politics.
Ana Gasteyer Satirizes the Girl Boss in 'American Auto'
Basically, it all comes down to that old political standby, illegal campaign contributions. But that's just a start to describing an increasingly tangled, confusing and complex case. The Telegraph has a great timeline breakdown, but here's an overview of the case that has the French press working overtime and the President's numbers in the tank:
Liliane Bettencourt, the 87-year-old L'Oreal heiress and France's richest woman, has been involved in a legal dispute with her daughter for some months. The daughter, Florence Meyers-Bettencourt, has filed a civil suit to have her mother declared mentally incompetent, made a ward of court, and forced to surrender control of her fortune. As her reason, Meyers-Bettencourt cites the billion euros' worth of gifts the octogenarian has given her alleged gigolo, society photographer Francois-Marie Banier. The daughter has also filed a criminal complaint against said accused gigolo, accusing him of taking advantage of an old and senile woman.
The plot thickened when the elderly lady's former butler came forward with some secret tapes. On these tapes, the heiress and her wealth manager seem to be discussing secret Swiss bank accounts and offshore accounts in the Seychelles. The wealth manager says he'll "put her taxes in order." In other words? Tax evasion.
Here's where it starts to get a little complicated. The wealth manager (he of the tax evasion) works with a woman named Florence Woerth. She is the wife of Labour Minister Eric Woerth. There are allegations that Florence Woerth pulled strings to block a tax investigation into Bettencourt's fortune. She denies it, but resigns. The government is now involved.
G/O Media may get a commission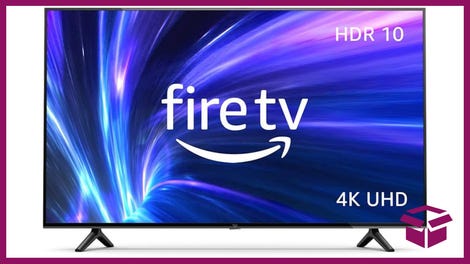 42% Off
Amazon Fire TV 50" 4K Smart TV
The government gets more involved. Another former Bettencourt employee comes forward, this time a bookkeeper. The bookkeeper says she was party to the withdrawal of all kinds of funds, which the Bettencourts would hand off to conservative politicians in brown envelopes. Specifically, she mentions 150,000 euros in cash, given to Eric Woerth as a donation towards President Nicolas Sarkozy's 2007 election campaign. (This would be the forementioned illegal campaign contributions.) The accountant also charges that back when he was mayor, Sarko would accept the envelopes personally - as a dinner guest. Everyone in the government denies this and blames Socialist conspiracies.
This has been a bad month for Sarkozy. In the past few weeks, amidst other minor corruption allegations, two of his junior ministers resigned after it came out they'd spent $15,000 in taxpayer dollars on cigars. He's also fighting with Angela Merkel. And, oh yeah, France did really badly in the World Cup. People are not happy: Sarko's aproval rating has reached an all-time low of 26%. Add what the CSM describes as a "salivating" French press eager for scandal, and you've got all the signs that, for the President, France's famously liberal summer vacation can't come soon enough.
Liliane Bettencourt Case: Timeline [Telegraph]

Sarkozy's Summer Of Scandals: Is The French President In Trouble? [CSM]
French Heiress Affair Is Half Drama, Half Farce [Reuters]