A group of black women who boarded a wine train in Napa Valley, California on Saturday was kicked off due to laughing too loud. The women, who are part of a book club called Sisters on the Reading Edge, had begun planning for their annual trip on the Napa Valley Wine Train in November of last year.

The group, which included an 83-year-old grandmother, was ready to relax on the 18-mile journey from Napa to St. Helena, SFGate.com reports. Lisa Johnson, one of the club members, began documenting their day on social media, sharing photos of the passing view, cheese platters and wine tastings. It seemed like the beginning to a wonderful trip, until it was suddenly cut short.
Johnson posted a photo of a passenger who said she was annoyed at the group's laughter. "We are a group of 12... if we all laugh at the same time it's loud! When we get to St. Helena they are putting us off the train," Johnson wrote in the caption.
Johnson told the Napa Valley Register the annoyed passenger had said, "'Well, this is not a bar.' We reacted, 'Yes, it is a bar, a bar on wheels.'"
While Johnson said the group was rambunctious at times, they were not at all "obnoxious or intoxicated." At some point, a manager asked them tone it down. "The train is set up to be with your friends, to drink wine and have a good time," said Johnson. "We were thinking, 'Who are we offending?'"
G/O Media may get a commission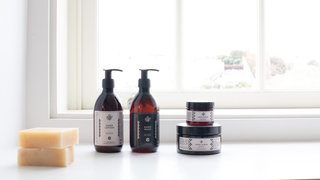 Exfoliate and Hydrate
The Handmade Soap Company
The women were escorted off the train in St. Helena, then sent back to Napa in a van and given refunds.
From Johnson's Facebook:
I've slept and I'm no less angry and humiliated this morning than yesterday. WE were paying customers too. They paraded us through 6 cars on display in front of the other guests to waiting police like we were criminals. Then they made a written public statement on social media that we verbally and physically abused other guest and staff... one word. UNACCEPTABLE!
The Napa Valley Wine Train Company posted a statement on their Facebook page, which said, "Following verbal and physical abuse toward other guests and staff, it was necessary to get our police involved." They have since removed the post.
"It was humiliating. I'm really offended to be quite honest," Johnson told SFGate. "I felt like it was a racist attack on us. I feel like we were being singled out."
---
Contact the author at marie.lodi@jezebel.com.