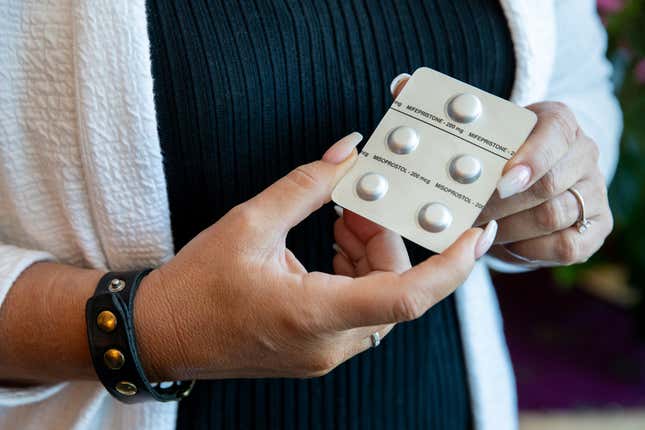 Lawsuits filed Wednesday argue that states cannot restrict or ban the abortion pills mifepristone and misoprostol because they're approved by the federal government. It's very possible that other states with abortion bans will face similar lawsuits claiming that approval from the U.S. Food and Drug Administration supersedes state laws. More than half of all abortions done in medical settings in 2020 were done with abortion pills, and the two drugs are also used to treat miscarriages.
Self Managed Abortions Explained
If these suits are successful, they could compel states with abortion bans to allow pills to be prescribed; but if courts rule against the plaintiffs, some legal scholars think it opens the door for states to ban other FDA-approved medications, like emergency contraception or even covid vaccines.
One lawsuit was filed in West Virginia by GenBioPro, a generic maker of mifepristone, and another by an OB/GYN in North Carolina. Abortion is banned in West Virginia but is still legal in North Carolina, though the state bans telemedicine prescription of the mifepristone and requires a 72-hour waiting period. The provider, Amy Bryant, argues that those rules should be suspended given recent federal steps to expand access to the drugs, including the FDA permanently allowing them to be mailed to patients. Bryant's lawyer previously worked at the FDA, according to the New York Times.
The day the Supreme Court overturned Roe v. Wade, Attorney General Merrick Garland said at a press conference that states can't ban medicines approved by the federal government because state law can't override federal law. Garland said in a statement:
Today's decision does not eliminate the ability of states to keep abortion legal within their borders...[The Department of Justice stands] ready to work with other arms of the federal government that seek to use their lawful authorities to protect and preserve access to reproductive care. In particular, the FDA has approved the use of the medication Mifepristone. States may not ban Mifepristone based on disagreement with the FDA's expert judgment about its safety and efficacy.
There is some legal precedent for this claim, after Massachusetts tried to ban an FDA-approved opioid painkiller called Zohydro in 2014. The state lost.
But—and there's always a but when it comes to abortion—there's a terrifying lawsuit out of Texas nonsensically claiming that the FDA was wrong to approve mifepristone back in September 2000 and seeking to revoke the agency's approval. If the Trump-appointed judge issues an injunction in that case, it could ban the abortion pill nationwide. Experts have called the suit baseless, but are worried because of the judge hearing the case, Matthew Kacsmaryk, previously worked for an anti-abortion Christian legal advocacy group.
So, yes, it's great news to see people challenging stat restrictions on abortion drugs—but we cannot forget about this earthquake of a lawsuit out of Texas, or what former president Trump did to the federal judiciary. We're in for a bumpy ride.