Oprah Winfrey, Doyenne of Daytime, Queen Of Everything, is entangled in a bitter feud with her stepmother Barbara over her dad Vernon Winfrey's Nashville barber shop, which Oprah purchased after it went into foreclosure last week. Barbara accuses her stepdaughter of using her power to take over the barber shop (because she just, like, needs it so badly?) and turn Vernon against her. It's some Dynasty shit. Barbara is now filing for divorce from Vernon—who, for his part, seems kinda like an old dude who just wants to cut hair. "When I'm gone," he says, "I'm glad I'll be able to say I left the neighborhood looking nice. Some folks say, 'Winfrey, you're kind of old to be doing it." I say 'You're right, but I feel good.'" ZOMG, heartstrings pulled. :/
---
Glittercouple Claire Danes and Hugh Dancy are having their first kid! The Homeland star and Black Hawk Down actor have been married since 2009, and last year Danes told People Magazine that while there were no definite plans, having a baby "would be fun." So, yup, Angela Chase is pregnant. Let's all just take a moment and let that marinate. [People]
---
G/O Media may get a commission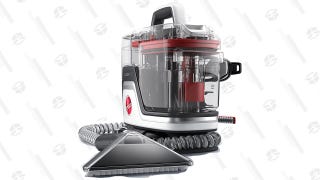 Save $10
Hoover CleanSlate Plus Carpet & Upholstery Cleaner
Justin Bieber had a small tantrumseizure during an interview with a Detroit radio station. It wasn't cute. It began when the DJ, flatteringly, generously if you ask me, compared him to Justin Timberlake, adding that he should take it as a compliment. "That's crazy because our voices sound nothing alike," Beebz replied. "Saying I sound like someone else is not really a compliment."
Later, the DJ inquired whether Beebz was worried about Harry Styles from One Direction dating his mom. Being a gentleman and a scholar, Beebzzzz took the high road:
"I think you should worry about me around your mom, bro," snapped the boychild.
"Justin, my mom's dead, so unfortunately that wouldn't work," replied the DJ.
At which point Beebz hung up on the interview. And scene. Click through to hear. [The Improper]
---
During an intimate performance in Berlin, part of her incident-riddled MDNA tour (nipple flash in Turkey! butt flash in Rome!), Madonna broke down and cried after launching into "Like A Virgin." The explanation can likely be found in something she said around the premiere of W.E.: "Anybody who knows me knows that when I'm tired, I cry." But no tears, Madge, 'cause you were the best part of the Superbowl halftime show this year and you have to keep representing the old guard to those young whippersnappers like ROFLCOPTER or LOLTOWN or LMFAO or whatever they're called. [Opposingviews.com, People]
---
James Deen on not having sex with Lindsay Lohan, his co-star in The Canyons: "I can definitely, honestly say Lindsay Lohan and I are not having sex! [If I was] I think I would tell everybody. I don't know anything about her except for that she's a really nice, down-to-earth, normal twenty-five-year-old girl. We went to a business dinner and she was very professional. She drank coffee and water. Then she had to call for a car because she couldn't walk ten feet from the door because of the paparazzi." And then she met her long-lost identical twin and they hatched a crazy scheme to get their estranged parents back together. [HuffPo]
---