For years, the internet has been celebrating the accomplishments of Täo Porchon-Lynch, a 98-year-old author, ballroom dancer, and yoga instructor, who—throughout her adventurous and travel-enriched life—has spent time with Mahatma Gandhi, Noël Coward, Marilyn Monroe, and the Dalai Lama. Now, lucky her, the New York Times has dubbed her a nonagenarian "yogalebrity," i.e. the only type of "yogalebrity" that won't make your eyes roll out of your head.
Born and orphaned in 1918 (her mother died in childbirth), Porchon-Lynch was raised by her uncle in Pondicherry, India. It was there, as a child, that she discovered her love of yoga:
When she was 8, she walked to the beach and spotted young boys making silly shapes with their bodies. "I thought it was a new game," Ms. Porchon-Lynch said. "I went to my aunt and said, 'Can they let me be part of it?' And she said: 'That isn't a game, it is yoga and it's not for girls. It's not ladylike.' So I started doing it."
Porchon-Lynch moved to London in the 1940s and there, she became a professional dancer. After WWII, she relocated again to Los Angeles and was a contract actress for M.G.M. She taught yoga all along the way.
Her lack of interest in doing things the conventional way continues to this day. For example, she never drinks straight-up water, instead hydrating exclusively with tea and wine. (Our kind of lady.) She also only wears heels, even when they're extremely impractical. When arriving at her first Central Park photoshoot with her now regular photographer Robert Sturman, NYT's Katherine Rosman writes:
Ms. Porchon-Lynch showed up for the shoot in a red ballroom dancer's flamenco dress and high heels. He questioned her choice to wear spikes to a park, and she told him she only wears high heels. "She said they helped elevate her consciousness," said Mr. Sturman, who ended up carrying her through the muddy park.
G/O Media may get a commission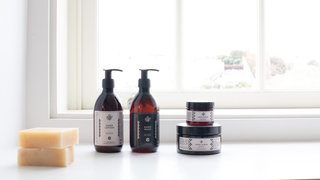 Exfoliate and Hydrate
The Handmade Soap Company
Do yoga, have some adventures, drink wine, and make men carry you everywhere. Täo Porchon-Lynch's rules to live by.