Seven men have been convicted or pleaded guilty in London to stealing £14 million —$20 million— in gold, diamonds, sapphires, and cash from an underground vault. It's believed to be the largest burglary in English history, and certainly the funniest: The ringleader, according to police, was 76 years old, and he used his senior citizen's discount to ride the bus to the scene of the crime.
The Associated Press reports that three men, all aged between 48 and 60, were found guilty Thursday of being involved in the heist in Hatton Garden, London's jewelry district. The safety deposit box belonged to a group of jewelers and turned out not to be particularly safe.
Four other men have already pleaded guilty to planning or carrying out the heist, including alleged ringleader Brian Reader, nicknamed "The Master" and who was jailed for eight years for his involvement in a 1983 robbery of £26 million in gold bullion, stolen from a warehouse belonging to the security company Brinks. Another supposed mastermind, Terry Perkins, 67, was previously jailed for helping steal some £6 million in the 1983 Security Express heist, executed carefully over seven hours in the gaps between when the company's security guards clocked in and out.
As the AP wryly notes, jewel theft is no joke, as the London police keep insisting, even as everyone involved keeps being amused by the age of these burglars:
The details of the carefully planned heist — not least the advanced ages of the thieves — have fascinated Britain. Prosecutors said 76-year-old Brian Reader — known as the gang's "Master" — used a senior citizen's bus pass to get to the crime scene. Even a lawyer in the case said the crime was worthy of being turned into a movie called "Bad Grandpas."
...

Police described the men as "career criminals" — two of them were previously convicted of robberies — and stressed that their age didn't make them any less dangerous. Despite their experience, some of the men were later recorded boasting about their raid, leading to their arrest.
G/O Media may get a commission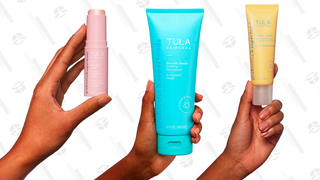 The men reportedly chose to break in over Easter weekend, disguised as workmen. Per the AP, they were perhaps surprisingly spry, climbing down an elevator shaft on their first night, where they failed to get anywhere near the deposit boxes. They returned the following night, drilled a hole through a wall, then climbed into a basement vault and torn apart 73 individual safety deposit boxes.
About two-thirds of the goods still haven't been found. These old, old men who should really know better are set to be sentenced on March 7.
---
Contact the author at anna.merlan@jezebel.com.
Public PGP key
PGP fingerprint: 67B5 5767 9D6F 652E 8EFD 76F5 3CF0 DAF2 79E5 1FB6
One of the thieves seen on security cameras in a fire escape corridor. The footage was shown at trial. Photo via London Metropolitan Police/AP Images