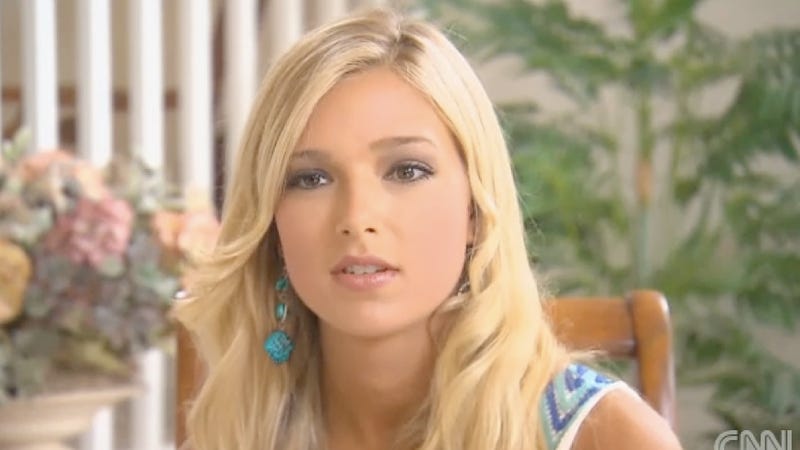 On Saturday, Connor Boss became the first legally blind contestant to compete for Miss Florida USA. She lost to Michelle Aguirre, but finished as a top-five finalist, this in spite of the fact that she can really only rely on her peripheral vision to see the stage.
According to CNN, Boss was diagnosed with Stargardt disease ten years ago. The hereditary eye disease causes her vision to get progressively worse, and Boss explains that when she's meeting someone for the first time, she has to look around, rather than straight at them, in order to put a face to the name. Most terrifying — at least from a Wait Until Dark point of view — about Boss' condition is that she has to memorize her way around the stage, which I guess is safe in the friendly Sunshine State, but Miss Congeniality taught us all a sobering lesson about the sorts of scheming that goes on in the big time pageant world. Boss, for her part, tries to keep her sense of humor, especially when she's accidentally running into things. "I find a lot of humor in it, the stupid stuff that I do," she says, "like running into things, tripping all the time over things that I cannot see."
Being legally blind would seem like a clear disadvantage in this situation, though we shouldn't be so hasty — Boss might just be able skip out on the whole "stage fright" phenomenon if she doesn't have to worry about stuffing each pasty audience member into his or her underpants throughout a pageant.
Legally blind contestant stops short of Miss Florida USA title [CNN]