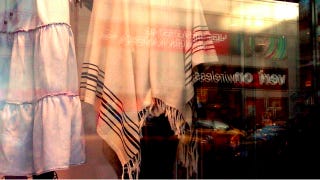 A tipster just sent us this photo of a scarf for sale in the window at H&M. A scarf that happens to look just like a tallit! Is H&M going into the Judaica business in anticipation of Passover? Or do they just think this is where the fashion winds are tending, now that the keffiyeh trend is so played out?
We hope this signals a new direction for H&M. I have a vision, and that vision is artifacts of all the world's religions, joined under one roof and available to all at prices that end in ".90". What is a snood, really, but a wimple without the courage of its convictions? And snoods are big this season. Why not top yours with a handy bishop's mitre and add a set of Zoroastrian vestments in pristine white? Use those Tibetan prayer flags as a belt. Cotton prices be damned, the market for Mormon temple garments could certainly use some competition. You say 'Sikh', but I hear 'chic'! Meanwhile, here's this necklace. I mean scapular! Necklace. Scapular-necklace. Isn't it pretty?
Here's the whole picture — click to enlarge. Our tipster shot this at the H&M on East 86th Street and Lexington Avenue. Good news: It's on sale!
In point of fact, the tallit-a-like scarf is certainly not the first time fashion has looked to Judaism to get the ol' creative juices flowing.