On last night's episode of Drag Race, the queens had a very tough challenge: Stand-up comedy. Shangela has been struggling a bit in the competition, but she pleasantly surprised — and cracked up — everyone with her "Laqueefa The Post-Modern Pimp-Ho" routine. It was so wrong and yet so right! And her ensemble — from the feather in the hat to the cliffhanger lucite heels — was on point. Guest judge Rita Rudner loved it.
The other contestant who really made a memorable impression last night was Yara Sofia. Watching her performance was like being in a funhouse: You don't know what's going on, and you're a little scared, but you sorta like it.
I didn't get a chance to write about last week's episode, so can we all bid a loving farewell to Miss Stacy Lane Bryant Matthews? She had really started to gain some confidence, but that was one hell of a Lip Sync For Your Life she ended up in, and I knew she was going to get the boot. Miss her already! You better work.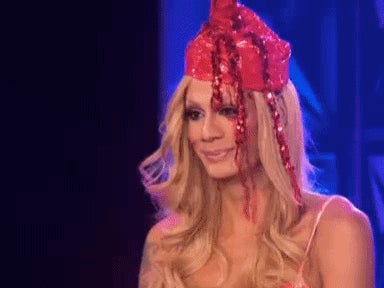 Meanwhile, it looks like Raja is going to win. I hate that the Heathers have made a Mean Girls clique, but the ladies involved are pretty consistent when it comes to bringing diva realness to the runway. The Carrie bloody bucket hat was amazing. (gif via FYeahRaja.)