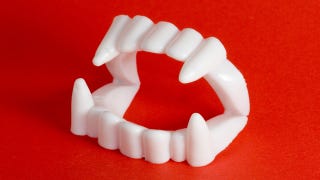 After deciding that she couldn't tell her mother the marks on her neck were the result of a "fantasy biting" encounter with a 19-year-old man, a 15-year-old Twilight fan concocted another totally plausible explanation: While jogging, a man attacked her and proceeded to gnaw on her neck.
After police found no evidence of the incident, the girl admitted she made the story up. She's been charged with making a false report, but so far the young man is facing no consequences for engaging in Twilight role-playing with a minor. We'll refrain from mocking the kiddies' passion for sparkle vamps, but has the fine art of hickey-concealing scarf draping really been lost to the ages?
Authorities: 'Twilight' Fan Lied About Bite Marks [CBS News]
Image via Andrew Buckin/Shutterstock.