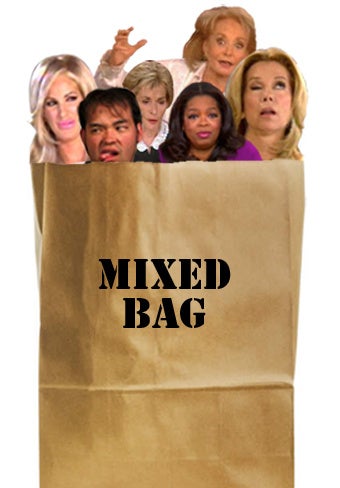 In this week's compilation of pop culture crap we've got women with acrylic toenails, Kirstie Alley remembering her coke days, and Mary Hart, who still hates Jon Gosselin.


1.) Toes
Tyra had guests this week who get fake toenails put on.

And there were these idiots, who pay $65 a session to have their toes read.



2.) Mariah
She made the talk show rounds. She stumbled on Leno.

Then she went on Larry King Live, where she blinged out his logo.

And then smelled her tits.

Also, Larry serenaded her.



3.) "Where are you?"
Sex Rehab with Dr. Drew premiered this week. One of its cast members, Nicole Narain, was on The Joy Behar Show, where she answered Joy's question a little too literally.



4.) What happens when you slouch in Judge Judy's court.



5.) Cougars
The Insider is taking this taking this cougar thing way too far. Although, I do like the little glimpses of Wasilla townies we get.



Niecy Nash is now literally referred to as "the resident cougar," and for the past two weeks, she's been going on dates with younger men.



Is this supposed to be sexy? Chest stubble and exaggerated nipples?

It reminds me of when Homer got plastic surgery so that Marge wouldn't leave him for a younger man.

And his nipples cried.

6.) Heather from Rock of Love on It's Always Sunny in Philadelphia.
She played a hooker.



7.) Why did Sandals have to ruin a perfectly lovely song?



8.) Jon Gosselin implied that he's on the same professional level as Mary Hart.
And she didn't like it.



9.) Kirstie Alley on her coke days.



10.) Michelle Obama is fun.