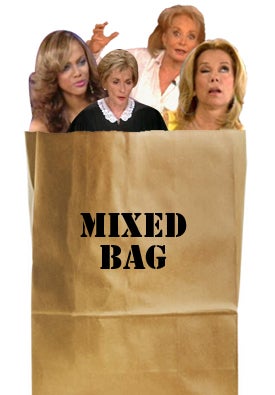 Many weeks, we come across stupid stuff on TV that might fall through the cracks. In Mixed Bag, we'll collect those odds and ends, for a multimedia compilation of pop culture crap.


1.) Bacon, cultural insensitivity, measurements: The Yenta Hour with Kathie Lee and Hoda has it all.
2.) "Inappropriate affect" is my new favorite description.
3.) Jersey Shore Unleased
We posted on this new reality show earlier this week, but there was So. Much. More. Even though I'm more familiar with, and endeared to, South Jersey, where I've spent a lot of summers down the shore, I still love the Northerners depicted on this show, because although their accents slightly differ from the douchebags and douchebaguettes I've grown up around, everything else is pretty much still the same…in Jersey, we don't pump our gas, we pump our fists.
4.) Also, I love their love.
5.) Male boobs.
6.) Teyona is America's Next Top Model. Duh.

7.)
8.) Ramona's on no "crap pike."
Part 2 of the Real Housewives Of New York reunion was crazy eyes.
9.) "Cartwheels have no price." — Kelly Bensimon, 2009

10.) Darling