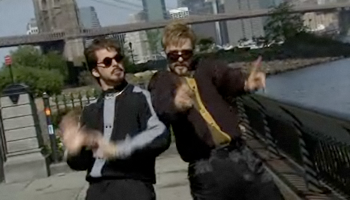 Host Justin Timberlake didn't disappoint last night, bringing us the best episode in ages (with the help of some very special guests). After the jump, a collection of the best skits of the night.


"The Mom Translator": Because your mom knows who celebrities are...she just can't ever get their names right.Click to view


The tale of Cornelius Timberlake and his hopes for his great-great grandson. There is one line in this skit that everyone will be talking about today, methinks. Click to view


The Star Trek boys hit up Weekend Update to address obsessive fans: Click to view


And finally, Susan Sarandon and Patricia Clarkson help Andy Samberg and JT live out their "mother lover" fantasies:
Click to view


For people outside the U.S.: I'm sorry, you guys, I see the comments every time we post these videos, but it's really out of our hands. SNL videos are only hosted on Hulu and NBC.com (they are yanked pretty quickly from YouTube), so it's better to complain to them about providing international access, not us. Also, I've tried both NBC.com clips and Hulu clips this morning and it seems that there's a bit of a lag in both (I'm guessing that they are being linked all over the place today) so it might take a second for some of these to load. But it's worth it, I promise.