Not gonna lie: I've been sort of nailing it these past couple weeks in the wedding planning department. I've narrowed down my dress to just two gorgeous contenders, we're about to sign a contract with a wonderful caterer, and we've decided we're going to design our own paper suite. For the first time as a bride-to-be, I'm starting to feel like I'm actually planning a wedding, rather than throwing a bunch of ideas in a bingo ball spinner, taking 17 shots of tequila and hoping "fruitcake buffet" doesn't come out of the chute first. It's…great?
As a reward for all our progress, I bought myself the summer issue of Martha Stewart Weddings so that I could mock the hell out of it. It got the last laugh, of course, because by the time I reached the last page ("20 Years of Favors," LOL) I was huddled in a corner, sobbing, realizing I've made no progress at all planning my wedding, because I haven't collected 150 different treasures from in and around the sea and arranged them in a perfect grid inside a vintage cabinet of fucking curiosities.
Here is everything else that was nuts.
This Card Case for a Groom's Gift (p. 59)
What a gentle way to ring in an eternity of love and partnership—by gifting your freshly minted husband a tangerine-colored, crocodile skin card case inscribed in gold script lettering with a sentiment that howls, "Hands the fuck off bitch, or I swear I will fucking cut you. —The Wifey." Yes. A great way to start your lives together, and a must have for pretty much any/all men. And at just $395, it's a no-brainer way to evacuate all that excess money you have kicking around at the tail end of wedding planning. Do it, buy it.
---
These Rental Tips (p. 186)
G/O Media may get a commission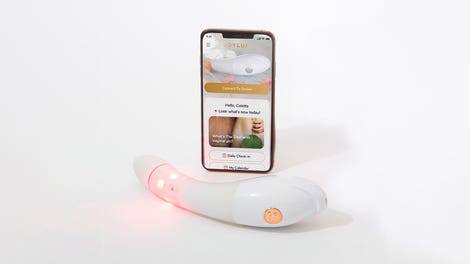 $50 Off
Joylux vFit Gold Device
Here's a little algorithm for you future brides to keep in mind as you browse the newsstands for inspiration: The more highbrow the mag, the more delusional the rental advice. For example, my Maine Weddings magazine keeps things down to earth by being like, "Rent a tent, if you want. Rent tables for people to eat at." Martha Stewart, on the other hand, is so far at the other end of the fancypants spectrum that she dips a toe into the void and advises the following in her Summer 2015 issue: Rent a Tesla town car for your getaway (why?). Rent a vintage bicycle, just to prop somewhere for no reason (not to ride—you've got an impossibly advanced, battery operated driving machine for that, baby!). Rent fur throws and leather-topped coffee tables. Other ideas that were probably cut for space: Rent Bill Clinton, rent a whale, rent a groom if you don't have one, rent an entire mansion and rip up all the walls and floors so you just have elegant smatterings of outdoor seating.
---
This Bone Folder (p. 164)
Standing in for the letter "B" in Martha's inimitable "The A to Z of DIY" (not recommended for those who are pregnant or nursing), the "Bone Folder" sounds like a trashbag grindcore band in the vein of Anal Cunt, but is actually a little tool "no longer made of actual bones" that exists to help you fold razor-sharp creases into paper. It's insane to me that this would be in this magazine because there are so many things you could use for this purpose instead of a Bone Folder: an envelope opener, a bottle opener, a pen with its cap on, or several hundred other things. I would rather a "Bone Folder" denote some terrifying punishment you hold above all your friends and relatives if they dare piss you off even once during the wedding planning process, ceremony or reception: "You'd better not hit on any of my friends, Uncle Stan, or you're gonna get the Bone Folder right to the kneecaps again." See: P is for Payback which is a B is for Bitch.
---
The Singularity of an Old-Timey Hot Dog Cart (p. 110)
"Happy wedding, get your hot dogs here—but does it really matter?" That is what this anonymous blip in the spacetime of a hot dog preparation vehicle says to me. This hot dog cart is just nothing. "Made fresh," it shrugs. It has nothing to do with weddings; it almost has nothing to do with hot dogs, either. It has no origin, it has no terminus. And I wonder if, for the added fee of six pints of virgin blood, it comes with a faceless, soulless ghoul of a paper-hatted hot dog maker? And I wonder, the people who read this magazine and dutifully carry out its every word—would they eat tubular meat byproducts from such a nameless cart, in any environment but a wedding? And I wonder, why this particular issue, for the vacuous hot dog cart rental idea? Why, sandwiched between a page full of things to do with metal studs and a two-page Cuisinart spread, does the hot dog cart lurk, like a cloaked stranger, in this, the Summer 2015 issue?
---
This Wooden Block Chair Garland (p. 104)
There is something so bizarre to me about the popular philosophy of "tie anything to the back of a chair and put a bride or groom in the chair and there you have it, another perfect wedding decoration, as usual!" This is just…not necessary? It's cute, I guess, but it also seems like you're getting married in Mr. Rogers's Neighborhood of Make-Believe and everything smells like an old person's mustard-yellow carpet from 1972 and you're a hand puppet cat and I don't know.
---
And one actually good thing…

This Fine-Ass Copper Punch Bowl Set (p. 199)
The imminent collapse of the middle class, and my unfortunate debt-to-income ratio, suggest that I will probably never own a home with enough cabinet space to store an entire punch service for eight, but damn this is pretty. And to be honest, I'd be willing to forgo traditional homesteading altogether, then purchase this punch bowl, wear it on my head as a roof, and wander the earth happily, protected from the elements and cocktail party-ready.
---
Watch this space weekly as Lauren Rodrigue shares the victories and freakouts of planning her 2016 wedding (and the marriage that'll follow). Tweet her at @laurenzalita.
Image via Martha Stewart Weddings.