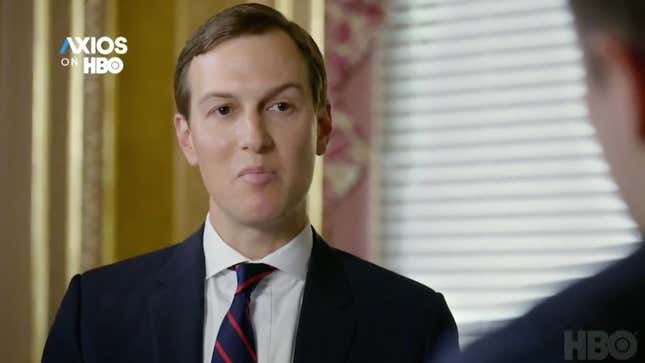 Jared Kushner wasn't just a soft spoken mouthpiece for a racist administration during his appearance on Sunday's episode of Axios on HBO, he was also an alarmingly poreless one. The skin of President Trump's senior advisor and son-in-law had a waxy, almost plastic appearance throughout the interview, his resemblance to a haunted doll only enhanced by his stammering response when asked if birtherism was racist ("I wasn't involved in that" Jared said four times, sounding very much like the pullstring on the back of his suit had been yanked too hard).

At 38, Kushner is more fortunate on the skin front than many men in Trump administration: Trump himself is heavily pockmarked and appears carrot-colored. For all of former White House Chief Strategist Steve Bannon's talk of "genetic superiority," he often looked like a ruptured tomato. And somehow, Trump Senior Policy Advisor Stephen Miller looks at least 10 years older than Kushner despite being four years younger. Life's mysteries!
Still, Kushner's face is pallid and washed out. It's a tragic combination, really: good skin, shit complexion. But it doesn't have to be this way, so I ventured to a beauty chain in New York City and asked some of the makeup and skincare experts there about how Kushner might look slightly more... alive. (All names have been changed.)
I showed an employee named Ryan a clip of Kushner's Axios interview and asked what Kushner could do to lessen his waxen appearance. Ryan said: "Definitely a powder, like a pressed powder. Or a color corrector."
Powder can help absorb excess oils, she explained, while color correctors work by applying a pigment to the skin that can counter imperfections. For example, green pigment can combat skin redness and orange, red, and peachy pigments counteract the appearance of dark spots and under eye circles. So for Kushner's rather sallow-looking skin? "Usually purple," Ryan suggested. "And then you put your actual complexion product over it."
Ryan also recommended Kushner opt for "something dewy" to give his skin a little extra oomph. I was surprised by this, honestly, because Kushner looks so sweaty all the time, but I realize that an intentional dewiness might come off more flattering than racist rich boy flop sweat.
After showing the Kushner interview to another employee, she immediately offered: "Vitamin C serum, of course. That's one of the main keys of having great skin."
Vitamin C helps slough away dead skin cells, making the skin brighter and smoother after regular use. It's also an anti-aging powerhouse, and while Kushner does not need to look more like an adult baby, he can surely benefit from its other advantages, like reduced dullness, improved hydration, and increased protection from pollutants in the air.
Alisha, another employee, agreed on the Vitamin C front.
"[Even] if you're putting powder on top, you have to have the illumination from underneath," Alisha said. That's where the brightening power of Vitamin C comes in. "The setting powder will make the skin look very smooth and not waxy [on camera], but whatever's under is just going to help that and make it look more like skin."
At Alisha's side was Alessandro, who wondered if Kushner opted to wear makeup at all. According to Alessandro, setting powder would have done Kushner a world of good, especially against Axios's Jonathan Swan camera-ready, full beat.
"Maybe the anchor [has on makeup] and [Kushner] doesn't!" Alessandro suggested. "[Kushner] has really nice skin, but he's also probably been out all day and didn't get any setting powder on him."
This is perhaps a generous read on what Kushner's calendar actually looked like prior to the interview—my guess is he was excitedly batting at a cat toy or maybe eating a lot of yogurt right before the cameras rolled—but who knows? Alessandro continued in earnest, imagining a dialogue between Kushner and Swan. "It looks like [Swan] was like, '...No, I'm ready, honey. That's on you, boo.'"
All of this is advice I hope Kushner ultimately takes. He is a loyal steward to a racist monstrosity, a failson who has truly made the world a more cruel and violent place, and history will remember him for it. But must he—must he!—look so pallid and sweaty while doing it?