What image do the words "residential center" conjure in your mind? Perhaps a place where people live of their own volition. A rehab center, maybe, or a college dorm. But for migrants who have been held at the Berks County Residential Center in Leesport, Pennsylvania for days, months, even a year, it means a place they aren't allowed to leave—a prison.
On Wednesday, 22 women at the Berks County Residential Center in Leesport, Pennsylvania resumed a hunger strike—a tactic they'd first employed during the first 16 days of August—to protest their continuing detention at the "center".
The Berks facility, one of three family detention centers in the country and the smallest (the other two are in Texas), currently holds 65 women and children, according to the New York Times.
The Times notes there has been a rise in the number of women and children being held at detention centers in the past couple years as a result of strictures placed upon immigration by the White House.
"As a response to an enormous influx of Central Americans in 2014, the Department of Homeland Security began putting mothers and children who crossed the border in detention, hoping that it would discourage others from coming to the United States. But under pressure from advocates, and prompted by a federal court ruling in August 2015, the agency changed course, moving to curtail the prolonged detention of most families seeking asylum."
G/O Media may get a commission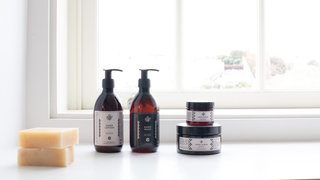 Exfoliate and Hydrate
The Handmade Soap Company
In August, Homeland Security secretary Jeh Johnson said that the average stay at a family detention center is 20 days. But the Times spoke to three families who said they'd been at the center for more than 300 days—one family had been held there for more than a year.
On Monday, an appeals court rejected a request for asylum registered by 28 women being held at the Berks center. The women have since filed another lawsuit demanding a new hearing, and expressed a "credible fear" that their previous hearing was conducted improperly
Legal action aimed at releasing migrants from these family detention centers has been slow and at times willfully, dangerously ignorant of what constitutes a family. In July, a federal appeals court ordered the Department of Homeland Security to end migrant detention on the grounds that it violates standards of care for children, such as their right to decent food and medical services. However, the ruling does not apply to those children's parents, which one would think violates just as essential a standard of care.