When it came to stealing scenes in 2017's movies, food had a pretty great year. The Killing of a Sacred Deer made me never want to eat spaghetti again, Timothée Chalamet had sex with a peach, and Jada Pinkett Smith technically had a sort of threesome with a grapefruit. But it was mushrooms, specifically the kind that can kill you, that had the best on-screen year.
2017's hottest trend was poisoning your man with mushrooms (in film, that is, unless you have something you want to tell me?) Two major films in particular showed just how dangerous mushrooms (and women) can be, The Beguiled and Phantom Thread, which I'm going to spoil for you so click away if you care!
Sofia Coppola's remake of the The Beguiled stars Nicole Kidman, Kirsten Dunst, and Elle Fanning as women living in and running a school house in the south during the Civil War. Their life is upturned when Colin Ferrell, a hot, wounded Union soldier stumbles into their pristine, feminine universe and makes everyone extremely horny. Like, very horny. All of 'em. But he, unsurprisingly, becomes a violent threat to the women in the house. They kill him the only discreet way they know how: by baking him some delicious, poisonous mushrooms they foraged on the property.
Phantom Thread also includes mushrooms as a way for a woman to control a threatening man. After Vicky Krieps' Alma enters a vague, girlfriend-meets-muse-meets-model arrangement with the permanent bachelor Reynolds Woodcock, a renowned English designer played by Daniel Day-Lewis, she is privy to a non-stop circus of high-fashion and glamour. But Woodcock withdraws from Alma and refuses to reciprocate the love she has for him, so she poisons him with mushrooms. But just a little bit crushed up into his tea, so he gets sick, and needs her to nurse him back to health like a baby.
G/O Media may get a commission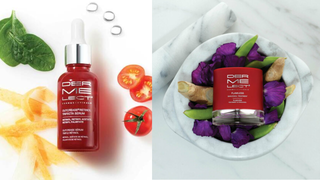 Save $19
Retinol Renewal Kit
There's no indication Woodcock knows what Alma did to him until she tries to poison him again later, this time with an admittedly delicious looking omelette. As Woodcock takes what feels like an hour readying the perfect bite on his fork, Alma says to him, all the while with their eyes locked, "I want you flat on your back, helpless, tender, open." And then he slowly swallows his bite and asks her to kiss him before he gets sick. It's unbearably romantic, I swear.
In an essay for Vulture, writer Andy Crump points out how mushrooms were "a symbol of female liberation" in movies this year, also adding Lady Macbeth. "In 2017's movies, mushrooms are more than a rich source of venom: They're a means of winning freedom from regressive male rule," he writes and then, somehow, connects the trend to the Women's March on Washington and the #MeToo movement.
But while Crump says that the plot device is unexpected, I think the mushroom trend falls neatly in line with a long history of women weaponizing their mundane domesticity: think the fatal frying pan in Fried Green Tomatoes, Lady Hideko poisoning Count Fujiwara's wine in The Handmaiden, the abusive Tom getting stabbed in the neck with a corkscrew in Girl on a Train. And poison, undetected, poured into the drinks and dishes men expect their wives and girlfriends to serve them, is traditionally a crime perpetuated by women. And this year, the poison just happens to be mushrooms. Really delicious-looking, easy to prepare, mushrooms!