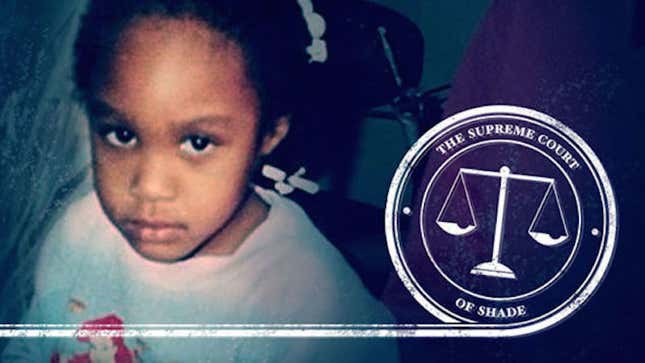 Here we are. Can you believe it? Did you, like me, worry we'd be stuck in a never-ending vortex wherein this year simply repeated itself over and over until we all ceased to understand about the very notion of reality? Do you now, actually, want this year to repeat itself in all its monstrous glory so that we never have to face the many bleak facts that are sure to come in 2017?
Happy New Year!
In this week's Shade Court, sportsmen get shady, Rihanna probably still doesn't care and never, ever tweet.
Shade Court Docket #2016JZ000232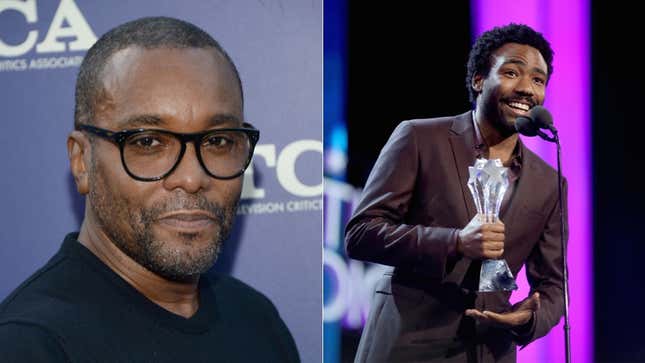 The Case: Lee Daniels was talking words that I must assume made sense when they were mere synapses firing in his brain. Specifically, he went on about other shows on television that star a lot of black people and touch on the theme of music. And not, as one might hope, in a complimentary way!

The Defendant: Fusion (a site that is owned by Jezebel's parent company, Univision)

The Evidence:
He also throws some dramatic shade on other black shows that happen to be about the music industry, asking questions like, "Which one's The Get Down?" and "Do they sing in Atlanta?" He apparently had no words for Vinyl, which he was also asked about.
The Deliberation: Dammit, Lee. Why? I mean, I know why, but still, why?
Annoyingly, his comments are blue-ribbon in their pettiness. Boy, you know what the fuck Atlanta is! It's that show with all the Golden Globes nominations and critical acclaim. Don't front.
"Which one's The Get Down?" Sir. SIR.
If nothing else, Daniel's jealousy and deep commitment to being petty and rude for no reason whatsoever is admirable in its own special way. Also, the man does know how to throw shade.
The Ruling: Shade
Shade Court Docket #2016JZ000233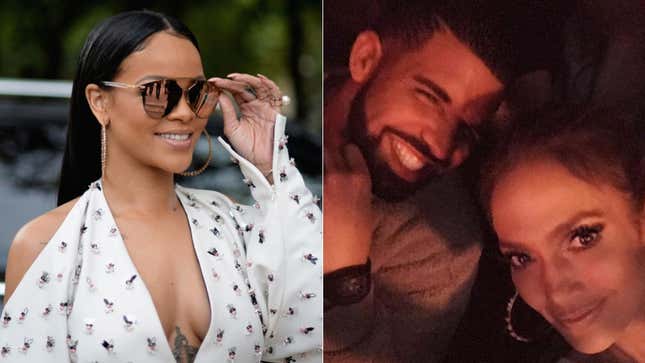 The Case: Drake and Jennifer Lopez are maybe dating, maybe trying to capitalize on a weak news cycle and are definitely trolling everyone via Instagram. Word on the extremely messy and suspect street is that Rihanna is very upset about the pairing and unfollowed both Drake and JLO on Instagram to send a message.
The Defendant: Revelist

The Evidence:
The Deliberation: As I've already discussed, I find this whole love triangle about as believable as a $3 bill Kylie Jenner uses to tip her "facialist."
Under normal circumstances, a covert unfollow would be an excellent display of shade and Lord/Naomi Campell knows Rihanna is the queen of casual social media savagery.
However, for this to work, you necessarily have to believe Rihanna is seriously upset about the OV-LO situation, which I do not accept—mainly because it's now pretty obvious that the "couple" is simply shooting a music video together! Which, DUH.
A more believable scenario to me is Drake, Rih and Jennifer hopped on a three-way call to discuss how they could maximize this stunt to everyone's advantage. In between pulls from her blunt, Rihanna agreed to do her part since Drake did keep showing up during the Anti World Tour because it really is hard to do an enjoyable performance of "Work" without him. It's the least—literally—she could do
The Ruling: Shade in theory, but not in practice
Shade Court Docket #2016JZ000234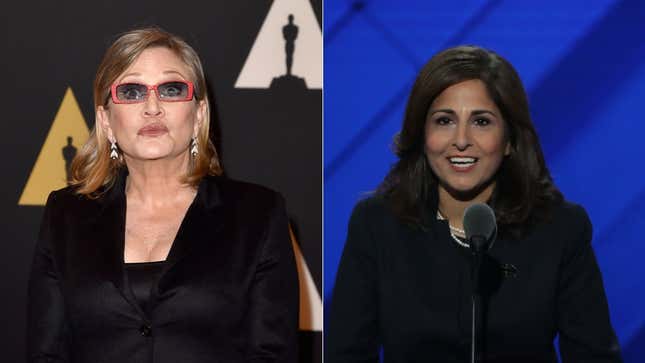 The Case: This week, political adviser Neera Tanden showed us all why no one should ever tweet. In what I hope was an attempt to compliment Carrie Fisher following the news of her death, Tanden tweeted this:
The Defendant: Heat Street

The Evidence:
Ignoring the fact that no one cares about which of the Star Wars films Tanden personally enjoyed, she threw shade on Return of the Jedi, presumably because it famously featured Fisher's character, Princess Leia, in a gold bikini.
The Deliberation: Before we begin, I'll state the obvious before anyone has a chance to "WELL ACTUALLY" it for me. Heat Street is a ridiculous conservative website as clearly evidenced by the reach of the century to link this dumb tweet to Hillary Clinton.
Tanden's tweet is very weird and exceedingly dumb. What is the point of singling out one movie you didn't like when trying to memorialize someone? How does one land on that as a normal, good thing to do?
While we're talking about poor decisions, Heat Street definitely came in white hot with the assumption that Tanden didn't like the movie because Fisher wears a gold bikini and not because it maybe wasn't a great movie about a Star War.
Still, in an incident full of bad moves, the worst was slandering the holy name of shade with this awful, inaccurate example.
The Ruling: Not shade
Shade Court Docket #2016JZ000235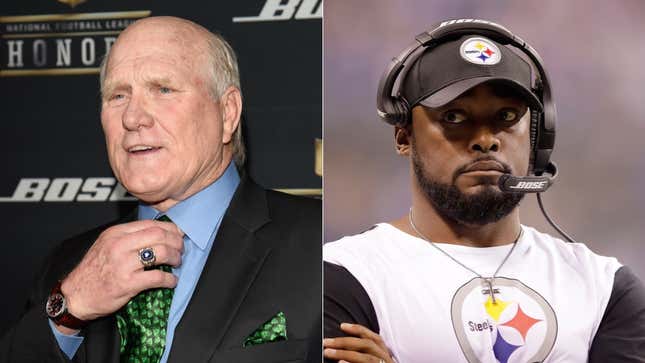 The Case: Mike Tomlin is a football man who coaches the Pittsburgh Steelers. Terry Bradshaw is an actor who appeared in the 2006 classic, Failure to Launch. He was also, at one point, a football man for the Pittsburgh steelers.
Terry is mad at Mike and he let it be known.
"I don't think he's a great coach at all," Bradshaw said while a guest on Fox Sports 1's [All Takes Matter]. "He's a nice coach. To me, I've said this, he's really a great cheerleader guy. I don't know what he does. I don't think he is a great coach at all. His name never even pops in my mind when we think about great coaches in the NFL."
Mike, your rebuttal?
The Defendant: Deadspin men and Yahoo
The Evidence:

The Deliberation: My esteemed judicial clerk Barry Petchesky highlighted a few necessary facts for her honor over at Deadspin. Most importantly, he explains the "Hollywood" Henderson reference which I initially presumed to be a vague nickname for The Brady Bunch star Florence Henderson.

You'll also notice that he mentioned Thomas "Hollywood" Henderson, linebacker for those late-'70s Cowboys teams. It was before Super Bowl XIII, pitting the Steelers and Cowboys, that Henderson famously had this to say about the opposing QB:

"Henderson said that "Bradshaw's so dumb he couldn't spell 'cat' if you spotted him the 'c' and the 'a.'"
Good to know!
This is a sticky case and I understand the confusion surrounding its characterization as shade.
As Barry caught, I do love the lack of mention of Terry Bradshaw's name. Fundamentals are important when throwing both a football and shade. If you had shown me Tomlin's statement minus the last three sentences, I wouldn't be particularly inclined to rule this shade. He's rambling a bit and sort of dancing around the crux of Bradshaw's insult. Further, he's not really saying anything biting about Bradshaw.
But then, then, he threw down those last sixteen words and I felt my robes ruffle ever so slightly as a chilly breeze swept through my chambers.
Maybe I don't have the sports knowledge to know otherwise, but the "Hollywood" Henderson reference feels rather unnecessary in this particular context other than as a way of slamming Bradshaw. It also seems that by choosing this exact moment to note that he's a fan of Henderson, he is tacitly supporting Henderson's belief that Terry Bradshaw is an idiot.
Still, it was the beautifully shady and oh-so faux innocent, "What do I know?" that really sealed the deal for me. Oh buddy, you know. You certainly know.
Good job football man. Good job.

The Ruling: Shade