The Grammys started announcing its 2015 nominees today and, as ever, the organization showed itself to be predictable and problematic, and also reminded us that we're living in a world in which Iggy Azalea is probably going to receive a Grammy.
Pharrell and Ed Sheeran, who at this point totally AREN'T the definitive gauges/harbingers of music industry mediocrity and that is saying a lot, hit CBS This Morning to make the first nominee announcements in a full day of tedious suspense—the Grammys will unleash some of the noms gradually, over Twitter, culminating in an explosion of announcements in tonight's no-doubt rousing A Very Grammy Christmas Special (in which, it appears, we will also get to see Ariana Grande serenade her boyfriend Big Sean, a relationship we're all still trying to fathom).
Based on empirical evidence the Grammys seem to lend the most weight to top-sellers in their field, so clearly the only three artists who've gone platinum in the 2014 calendar year—Taylor Swift, Ariana Grande, and Sam Smith—are showing out so far. Smith and Swift are up against each other in the Best Pop Solo Album Performance, which the Grammys allowed Ryan Seacrest to announce because he is the Most Powerful Man in the World.
Smith and Grande got a nod in the Best Pop Vocal Album category, but it looks like Swift's aspirations of becoming a True Bona Fide '80s Pop Star in the Image of Way Better '80s Pop Star Sky Ferreira were dashed, at least by The Establishment.
G/O Media may get a commission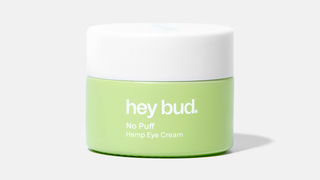 15% off
Hey Bud - No Puff Hemp Eye Cream
For "Record of the Year," in which "record" means "song" because we are trying to be as sanctimonious as possible, there is a very good chance Iggy Azalea win, though probably not because there's no way in hell they're not gonna give her the Best Rap/Hip-Hop Album and Song Grammys because this earth is totally fucked, right? (Remember the Macklemore.) Rooting for Sia, although Sam Smith the Darkchild Remix is a strong contender.
I have no commentary on the Best Country Album because this area is not my forte and I have heard zero of the following albums. I hope it goes to a woman.
However, I am still kind of in disinterested shock, if that makes sense, that Jhené Aiko was nominated at all, much less in a category that includes Beyoncé and Pharrell (who, based on the predictable machinations of the Establishment, will obviously win). But then we are talking about a category called "urban contemporary," which is I guess code for "black music that does not fit into our algorithmic rubric of the kinds of music black people make even though this shit is totally nebulous and it is apparently 1954." DO NOT UNDERSTAND. Also, Beyoncé should have been nominated for Best Pop Album.
Best Rock Song nominees were a boyxplosion, give it to Hayley Williams and Paramore (who are excellent).
They'll be announcing these all day on The Grammys Twitter, and I will rubberneck it all. Honestly, it's not even that I totally hate the Grammys, even though I think the system behind it—the RIAA—is dated and rigid and doesn't know how to help move the music industry into the internet era in any way other than to shake its fist at it, litigate, and dispatch Neil Portnow for a droning grandpa speech year after year (honestly, my favorite part of the night). It's just that the Grammys were created in a time when the music industry as a Mainstream Monolith meant more, but now that the internet has made music much less stratified—and less corporate music from all over the world much more accessible—it all just seems like a flubby exercise for dinosaurs. Sure, winning boosts album sales and visibility and that's important for artists like, say, Lorde, who won last year and would likely not be quite as popular stateside if she hadn't (though she still would be). But it also presents itself as the end-all, be-all of Important Music, with blinders on. And the rest of us know that's simply not the case.
Anyway, GONNA WATCH ALL THIS SHIT CAUSE I LOVE THIS SHIT, even though the Grammys are The Man. Other performers on tonight's airing of A Very Grammys Christmas include Mary J. Blige, Pharrell, LL Cool J (host 4 life) and "a very special Christmas performance by Sam Smith." Uh, okay. Watch that tonight on CBS at 9 PM EST.
Photo via screenshot.