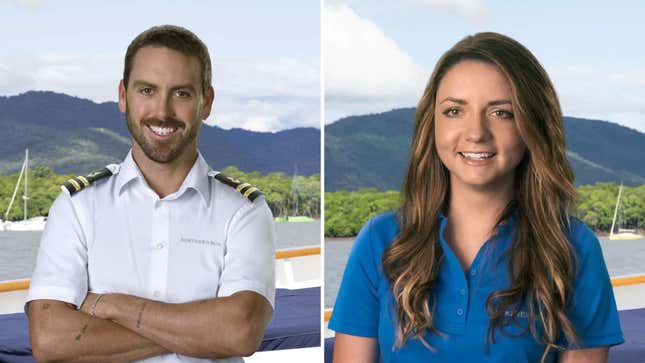 Inappropriate behavior, more times than not, is rewarded on reality TV. And in a programming landscape where Jen Shaw or the Chrisleys remained on TV until they stepped foot into prison, it's rare to see folks reprimanded in serious ways for their actions. It makes this latest development from Bravo's Below Deck Down Under that much more unusual and appreciated.
On Monday's episode of the Australian remix of the popular yachting series, two crew members, bosun Luke Jones and second stew Laura Bileskalne, were fired for sexual misconduct on the boat. After an evening of heavy drinking, one of the crew members, Margot Sisson, made a beeline for her bedroom. Although pretty drunk, Sisson got back to her room with the help of the boat's chief stewardess, Aesha Scott, who said, "I don't want any drunkenness to be taken advantage of. So I'd just like to see you get into bed safely. I'll get you water." Margot thanked her and made it clear, "All I want is water and bed, no Luke."
But moments later, Luke, who'd just gotten out of the jacuzzi, went into Margot's room with only his towel on, removed it upon entering the room and got into bed with Margot fully naked, despite her being passed out. Immediately, producers intervened, turned on the lights and asked Luke to leave Margot's bed. Trying to slam the door on the cameras, he shouted, "Can you fuck off for a second?"
Luke headed back to his room and locked himself in in shame or guilt or whatever, but Aesha, who witnessed the altercation with the production crew, ran to Captain Jason's room, woke him up, and informed him of what had happened. Immediately Jason headed to Luke's locked room, opened the door with his key, and told Luke he had to get off the boat and spend the night in a hotel.
In a to-camera confessional, Aesha explained her horror at the situation.
"You don't have the right to put someone unconscious into that position. I have had a drunken sexual assault experience before, and I never wanted that to happen to anyone else. And she's just such a sweet angel that the thought of anyone violating or being in her space, it just makes me feel sick."
Later, when Aesha and Chef Tzarina Mace-Ralph consoled Margot and updated her on the night's events, Margot was clearly shaken by the potential of what could have happened. "I feel stupid," she said. Tzarina correctly reminded her, "Women should be able to be blackout drunk if they want to. We should be able to stand in a room naked and not have anyone do anything to us."
Captain Jason decided to terminate Luke's employment for walking naked into Margot's room and getting into her bed without her consent. He did not allow any crew members to say their goodbyes. As crew members were discussing what had gone down, Laura chose to tell Margot she pitied Luke. "I should have just kept him happy. If he comes naked in my cabin, I'd be like, 'Hello! Yes!'" She continued, "I don't know. I'm just sad. I think he just meant it as a joke. He's a funny guy, I don't think he meant anything bad. He wouldn't rape you or anything."
Around the same time the Luke and Margot incident occurred, Laura was also drunkenly following around deckhand Adam Kodra, refusing to accept his kind rejections and forcing herself into his bed. After hearing about both of these interactions, Captain Jason decided to terminate Laura's employment as well.
Whew! That was a lot of explaining, but it feels worth getting into the nitty gritty of it all, especially considering how exceptional the handling of it was. Remember not that long ago, in 2017, when Bachelor In Paradise contestant Corinne Olympios got blackout drunk and production did not intervene when another cast member allegedly made advances on her? It turned into a complicated and upsetting legal saga that certainly turned me off from continuing to watch the franchise. Swift removal of problematic and potentially dangerous crew members is only way to do it.