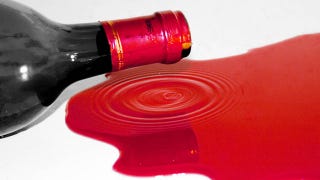 Drilling, farming, mining, fishing — industry and the waste it brings have become an unfortunate way of life, and eventually we become inured to the tales of destruction. Oh, what does it matter? We'll all be dead eventually anyhow.
But every so often comes word of a new instance of reckless fuckery and we're momentarily sensitized. When profligate negligence manages to exceed our already-dismal expectations, it's impossible not to have some sort of reaction, be it emotional or physical — or, in today's case, both.
462 cases of Mollydooker Velvet Glove shiraz fell off of a forklift while being loaded for export from Adelaide. At $182 a bottle, that comes out to a seven-figure loss. Says winemaker Sparky Marquis (!), "This wine is our pride and joy, so to see it accidentally destroyed, and not consumed, has left us all a bit numb."
Ugh. On the bright side, if you're feeling numb without alcohol, you're ahead of the game.
Million Dollar Drop As Wine Tumbles [Melbourne Herald Sun]
Image via Lee Billinghurst/Shutterstock.