Thousands of students across the country participated in the #NationalSchoolWalkout on Friday, commemorating the 19th anniversary of the Columbine shooting and continuing the teen-led activism that has erupted in the wake of the Parkland shooting.
As was the case with the last walkout, some students walked out of schools with the full support of the adults in their lives; others continued to to face threats of disciplinary action. CNN reports that some Chicago schools are punishing protesting students by forcing them to attend school on Saturday.
If nothing else, today's protests made one thing abundantly clear: The media might see these teen activists as something of a novelty, and critics might suspect that their dedication to gun control will fade as soon as another Tide Pods-esque trend emerges from the depths of teen trend hell, but these teens remain dedicated to this issue. With each march, the gun violence debate becomes more nuanced, touching on issues of race and the militarization of schools as much as it does regulation. This movement isn't fading—it's growing in complexity and addressing every facet that makes gun violence a uniquely American ill.
Here are some sights and sounds from today's protests:
Minnesota high school students represented 50 Miles More in Milwaukee; young people involved in 50 Miles More marched 50 miles from Madison to Janesville—home House Speaker Paul Ryan— in March.
G/O Media may get a commission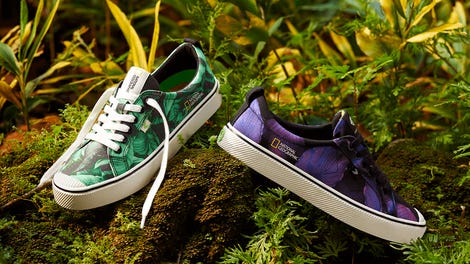 New New New
Cariuma + National Geographic
Students in D.C. participated in a 19 minute die-in to commemorate the years since Columbine:
Just some teens flipping off Trump's hotel in D.C.:
Teens attached price tags to their clothing, implying how much their lives are worth to gun group courting politicians:
Anti-NRA sentiment from some teens in Missouri:
These students at H.B. Plant High School in Tampa, Florida were threatened with suspension for walking out of class:
Students in ultra-gun-friendly Texas walked out, despite Allen High School trying to put a stop to their protest:
Maryland teens imploring politicians to value their lives over guns, which, yeah, fair:
High school student Justin Blackman was the only one who participated in a walk out back in March:
But he had a lot more people with him this time around:
Students at Pendleton Heights High School in Indiana dedicated their protests to the victims of the Columbine, Sandy Hook, and Marjory Stoneman Douglas school shootings:
Student protestors took up whole blocks in Austin, Texas:
Protests, but make it fashion:
Chicago students turned out big time and included messages about gun violence at the hands of the police and systemic racism:
I've said it once, and I'll say it a billion more times: Don't fuck with these teens.