The BBC published its long-awaited list of the 21st century's best films, as selected by 177 film critics from around the world. Lists like these are meant to drum up conversations and controversies, and when appearing online they're usually the creations of a single author—a single critical mind. But the BBC has provided a decent chunk of data to supplement its numbered list, so we have a pretty good understanding of who those film critics are.

The 177 are from 36 countries, but nearly half (81) are from the US. Going down the list:
"19 from the UK, five each from Canada, Cuba, France, and Germany, and four each from Australia, Colombia, India, Israel and Italy. Lebanon, the UAE, China, Bangladesh, Chile, Namibia, Kazakhstan and many others are represented too."
OK! Great. So they did a little work attempting to create a truly international pool of people. But what about gender? Of the 177 critics, there were 55 women and 122 are men. That's roughly 31%, which is depressing until you look at data released earlier this summer that says women make up only 27% of film critics, at which point it becomes ever so slightly less depressing.
Similar feelings may arise when looking at the breakdown of the directors on the list. Of the 102 films (there was a three-way tie for #100), 12 (or roughly 12%) had women as directors, which is just three percentage points higher than the industry as a whole.
G/O Media may get a commission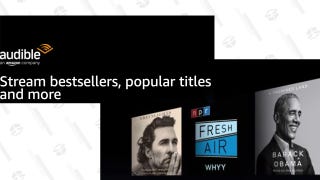 FREE
Audible Premium Plus 3-Month Free Trial
Moving on to the films themselves, their number one pick (it appeared on 27% of all ballots) was David Lynch's 2001 mindfuck Mulholland Drive. A helpful collection of infographics reveals that, of the 16 individual critics who chose it as their top film of the century, 12 were men and four were women. The film with the "highest number of votes" from women was Wong Kar-wai's In the Mood For Love, which appears at number 2 on the list.
Overall, the list—both BBC's selection of critics and the critics' selection of films—appears to accurately reflect the representation of women in film and film criticism. So that's good. That's commendable. The problem, as it always tends to be, can be found in the film and media industries themselves, where women are still having trouble breaking through.