Thessa just wanted to have a simple sixteenth birthday party like everyone else.
But when she forgot to mark the Facebook event invitation as private — well, it's the internet:
The party became one of those things: "Hey, this girl on Facebook is throwing a 16th birthday party. Wouldn't it be funny if we got thousands of people to show up?"
Of course, the "prank" went viral, with more than 1,500 guests showing up at Thessa's birthday party, even after she canceled it (perhaps because she was terrified of what 1,500 probably-not-16-year-old strangers were planning to do at said party).
(Un)fortunately, Thessa would never have to find out what they were planning, because according to the AP, she "went into hiding" and was later found "celebrating quietly with her grandparents at an undisclosed location."
Revelers held up signs asking "Where is Thessa?" others brought birthday presents and homemade cake, there was lots of alcohol and the crowd chanted again and again, "Thessa, celebrating a birthday is not a crime," - in obvious relation to the massive police presence.
Poor girl. She's probably one of the only teens in history who would opt for a quiet evening at home with her grandparents instead of a teen movie-style blow-out that also included cops and firemen:
Thessa's parents had to hire a private security service, eleven people were detained by police, and German firefighters had to extinguish two minors blazes. But even the AP admits it: "The party was a hit."
G/O Media may get a commission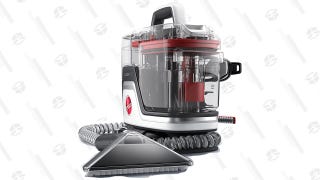 Save $10
Hoover CleanSlate Plus Carpet & Upholstery Cleaner
Random 16 Year-Old Girl's Birthday Party Becomes German Social Event of the Year [NY Mag]