Because the April 14, 1865 performance of Our American Cousin fell on Good Friday, the folks at Ford's Theatre weren't expecting a huge crowd. So, to drum up publicity, they invited the highest-profile couple in Washington D.C.: President Abraham Lincoln and his wife, Mary Todd. Despite the President's reluctance, he and the First Lady accepted the invitation—inspiring people around the city to show up. The theatre, as recalled by NBC Washington last year, was nearly at capacity—but at least one person in the audience didn't spend 75 cents on a ticket.

Our American Cousin first premiered in New York City in 1858 and was an immediate hit. The farcical play told the story of a shit-stirring American man named Asa Trenchard who goes to visit his snooty-as-hell English relatives across the pond to "claim the family estate" which he expects to inherit. Once there, a non-family member named Mrs. Mountchessington tells her daughter, Augusta, to secure her future by locking it up with the classless American, but he ends up having eyes for his poor cousin named Mary. (Little does Mary know, she's actually set to inherit the whole enchilada.)
Do you see where this is going? Of course you do. I'm sure the audience at Ford's Theatre 151 years ago saw it, too. The only problem is that two scenes into the final act, John Wilkes Booth decided to shoot the president after one of Asa's most laughter-inducing lines ("Don't know the manners of good society, eh? Well, I guess I know enough to turn you inside out, old gal—you sockdologizing old man-trap."), jump on stage, and make what should have been a delightful ensemble comedy all about him. (Booth's delusions are wonderfully captured in James Swanson's 2006 book Manhunt.)
All in all, the tragic events of that night caused the audience to miss five and a half scenes, including one during which Asa proposes to Mary with this legitimately charming exchange:
Asa: Give me yourself. I know what a rude, ill-mannered block I am; but there's a heart inside me worth something, if it's only for the sake of your dear little image, that's planted right plump in the middle of it.
Mary: Asa Trenchard, there is my hand, and my heart is in it.
By the next morning, long after audiences had stopped caring about the story of Asa Trenchard, their president was dead. Our American Cousin, however, lives on. It's still performed—in full—to this day.
G/O Media may get a commission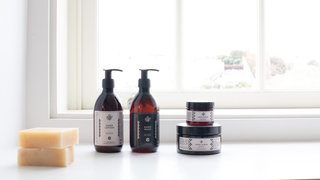 Exfoliate and Hydrate
The Handmade Soap Company
Image via AP.