A 15-year-old YouTube skateboard star has been arrested and charged with committing lewd acts on a child under 14, along with his 22-year-old manager and another skater, 27. Steven Fernandez, who's nicknamed "Baby Scumbag," is accused of luring a 12-year-old girl by promising to put her on a nonexistent MTV special if she performed sex acts.
Fernandez has over 700,000 subscribers on YouTube and one million Instagram followers, and gained fame as a baby skater when he was just 13. TMZ was first to report that he was arrested Wednesday along with manager Jose Barajas, 22, and another skater, 27-year-old Keelan Dadd. A press release from the Los Angeles Police Department refers to Fernandez as a "prime mover" in a conspiracy to exploit the 12-year-old, and says they are seeking more victims. It also seeks to explain why they're releasing Fernandez's name, when he is a minor:
"Yes, it's unusual that we would release the name and photo of an arrested minor," explained Det. Ninette Toosbuy of the West Valley Detective Division. "But State law provides for such exceptions in cases where the perpetrator sexually targeted minors."
The LAPD says they began investigating the case in November of this year, when the victim told them Fernandez persuaded her to get into a car driven by Barajas. The press release says that Fernandez promised to make her famous in exchange for engaging in sex acts with the three men:
Fernandez promised to introduce the girl to A-list performers and appear in Fernandez's non-existent MTV special in return for her engaging in sexual acts with Fernandez, Barajas, and Keelan Lamar Dadd, 27, the third man charged in the case and a fellow professional skater.
G/O Media may get a commission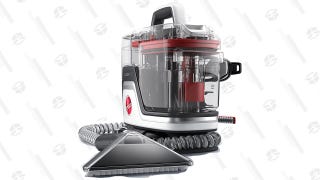 Save $10
Hoover CleanSlate Plus Carpet & Upholstery Cleaner
The LAPD says they set up a sting on November 17 to arrest Fernandez and Barajas, with a detective posing as the 12-year-old and arranging to meet them by text. Dadd turned himself in on December 3, they say; all three were charged with lewd and lascivious acts with a child under 14, a felony punishable by up to eight years in state prison. Police say both adults posted bond; Fernandez was released to his mother and required to wear an ankle monitor. Detectives are asking parents to ask their daughters if they've had any contact with the three, with a detective saying that they "tended to cruise West San Fernando Valley, Hollywood, and Compton, looking for young girls to solicit."
Jezebel's own Madeleine Davies wrote about Fernandez all the way back in 2012, noting that then just 12, he was featured in a series of highly sexual videos about "how to get girls:"
It starts with Steven attempting to get a female stranger to kiss him on the cheek and, charmed by his youthful appearance, the woman agrees. Every time she leans in, however, Fernandez turns and attempts to kiss her on the mouth. The behavior then escalates to the point where the boy comes up behind a woman on a dark street and grabs her in a hug. The woman, reacting reasonably, becomes upset and tells him that he shouldn't touch people he doesn't know. The boy immediately becomes defensive, but continues to aggress, telling her that he's "not creepy." Later, when another two woman walk away after he verbally sexually harasses them, he immediately turns the table and calls them rude. The video ends with him once again surrounded by adult women acting provocatively in their underwear.
Fernanez has also been interviewed by both Vice and L.A. Weekly in the past couple years. In the Vice interview, he played heavily on a sex-crazed persona:

Do you want to go give a shoutout to your favorite sites?

XVideos, PornHub, Taint Olympics [Note: I don't know if that's a real website or what. I couldn't find it. I am old.], and Worldstar.
Vice's Allie Conti also asked Fernandez about photos of him posing with much, much older women:
What about these women you're always posing with?

They're just cool girls that I met on Instagram and wanna be in my videos. So, I kind of get to see titties and boobies. Usually I just hit them up. I've got a lot of followers. And then we probably just meet up or something and film.

How old are these girls?

I'm guessing 20, 24, 23?

...

Are you actually getting with these girls?

I can't really talk about that.
Anyone with information on this tremendously depressing case is asked to contact Detective. Ninette Toosbuy, West Valley Detectives, at (818) 374-7718. Tips can be made anonymously through Crime Stoppers at 800-222-TIPS (800-222-8477).
This post has been updated to include an earlier Jezebel article about Fernandez.
---
Contact the author at anna.merlan@jezebel.com.
Public PGP key
PGP fingerprint: 67B5 5767 9D6F 652E 8EFD 76F5 3CF0 DAF2 79E5 1FB6
Right to left: Fernandez, Dadd, and Barajas. Booking photos via LAPD