A fifth-grader who led a walkout at her elementary school this month stood up in front of hundreds of thousands of people and the national media today to give voice to the many women of color, especially black women, whose murders are overlooked. When you thought the "mass shooting generation" could not put "generation 1980s capitalist hellspawn" to even more withering shame, 11-year-old Naomi Wadler mopped the floor.
In a cogent and unwavering speech, Wadler, of Virginia, shamed American media for treating murdered black girls as "just numbers," "simply statistics instead of vibrant, beautiful girls who are full of potential."
The numbers paint a dismal picture, even for survivors. A 2017 study by the Violence Policy Center found that black women are twice as likely to be murdered by men as white women are; most often by firearms; and most often in the course of an argument. And then, girls of color who are victims of abuse are more likely to be incarcerated than white girls, who are more often sent to mental health rehabilitation programs, according to the ACLU. The ACLU also found that in 2004, black women were 4.5 times more likely than white women to be incarcerated, and that two-thirds of women in prison are women of color, despite the fact that three-quarters of the US population is white. To see how antagonistic the justice system is toward women of color, you need look no further then the stories of 15-year-old Bresha Meadows, Marissa Alexander, Regina Carey, A'Kara Travil Edwards, and Whitlee Jones–who have been the subject of deeper discussion on The Root.
Wadler takes it away:
My name is Naomi, and I am 11 years old. Me and my friend Carter led a walk-out at our elementary school on the 14th. We walked out for 18 minutes, adding a minute to honor Courtlin Arrington, an African-American girl who was the victim of gun violence at her school in Alabama after the Parkland shooting. I am here today to represent Courtlin Arrington. I am here today to represent Hadiya Pendleton. I am here today to represent Taiyania Thompson, who at just 16 was shot here in her home in Washington D.C. I am here today to acknowledge and represent the African-American girls whose stories don't make the front page of every national newspaper. These stories don't lead on the evening news. I represent the African-American women who are victims of gun violence who are simply statistics instead of vibrant, beautiful girls who are full of potential.
It is my privilege to be here today. I am indeed full of privilege. My voice has been heard. I am here to acknowledge their stories, to say they matter, to say their names. Because I can. And I was asked to be. For far too long, these names, these black girls, have been just numbers. I am here to say never again, for those girls, too. I am here to say that everyone should value those girls, too.

People have said that I am too young to have these thoughts on my own. People have said that I am a tool of some nameless adult. It's not true. My friends and I might still be 11, and we might still be in elementary school, but we know. We know life isn't equal for everyone, and we know what is right and wrong. We also know that we stand in the shadow of the capital and we also know that we have seven short years until we, too, have the right to vote.

So I am here today to honor the words of Toni Morrison. "If there is a book that you want to read, but it hasn't been written yet, you must be the one to write it." I urge everyone here and everyone who hears my voice to join me in telling the stories that aren't told. To honor the girls and the women of color who are murdered at disproportionate rates in this nation. I urge each of you to help me write the narrative for this world and understand so that these girls and women are never forgotten.
G/O Media may get a commission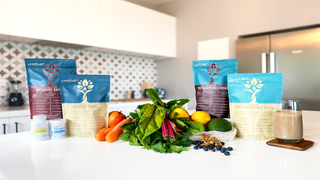 Applause all around.