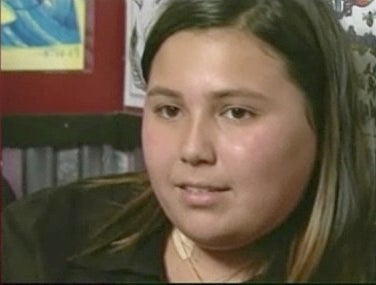 Hannah Powell-Auslam, 10, assumed a lump near her rib cage was a bone. But a biopsy revealed it was a malignant tumor, and Hannah may be the youngest person ever diagnosed with breast cancer.
Hannah, who lives in La Mirada, California, was diagnosed last month after she complained about an itching in her left breast and her mother noticed a lump. ABC News reports that doctors initially told the family she was too young to have breast cancer, but tests determined that she has invasive secretory carcinoma, which has only been documented in a few hundred girls in Hannah's age group.
In an interview with local TV station KCAL 9, Hannah said her first thought after hearing the diagnosis was, "How could this happen? I'm ten. I was really shocked." Her mother, Carrie Auslam added, "I feel like she's been robbed of her childhood. ... It's beyond shocking. You know, she's 10. She has breast cancer. It's unheard of."
On May 7, Hannah had a mastectomy to remove her left breast. A week ago she found out that the cancer has spread to a lymph node, which means she'll need more surgery or chemotherapy, but radiation is not an option. "If you radiate the developing breast, it will never grow develop fully, because it becomes atrophic," her doctor, surgical oncologist Dr. Helena Chang told CBS News. The family has launched a website, OurLittleSweetPea.com (which is currently down) to document Hannah's ongoing fight against cancer.
Breast cancer specialists are warning that Hannah's cancer is incredibly rare, and parents shouldn't worry that their children need to be screened for breast cancer. "This is the youngest case I've ever heard of," Lillie Shockney, administrative director of the Johns Hopkins Avon Foundation Breast Center told ABC News. "I don't want the outcome to be that mothers are panicked across the country wanting to have their daughters in elementary and middle and high school to get mammograms or even clinical breast exams," she said.
Carrie Auslam says the most important message parents should take from her daughter's cancer isn't that their daughters may have it too, but that if kids feel something unusual on their bodies they need to tell their parents. She explained, "Hannah knew about her lump, she didn't talk to me, knowing that it was just part of growing up. She didn't think it was a big deal." Hannah adds, "I'm going to set an example for all the kids in the world that If there's something wrong with your body, you tell your parents."
10-Year-Old Girl Battles Rare Breast Cancer [ABC News]
Girl, 10, Battles Breast Cancer [KCAL 9]
OurLittleSweetPea.com
10-Year-Old Bravely Battles Breast Cancer [CBS News]