In this week's compilation of pop culture crap, the quest to find Kelly Ripa a new cohost continues, Michele Bachmann invades your morning and late night talk shows, and Martha Stewart has a topical new recipe for flavoring your turkey this year: pepper spray.
---
1.) Finding Regis Philbin's replacement.
Saturday Night Live did another one of those sketches that is really just an excuse to let their cast demonstrate their best impressions and this search to find Kelly Ripa's new cohost did not disappoint.
---
2.) Martha Stewart's Pepper Spray Turkey.
Inspired by the good-natured campus police at UC Davis, of course!
G/O Media may get a commission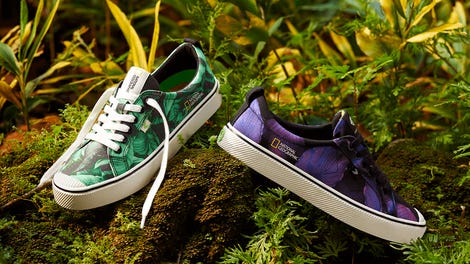 New New New
Cariuma + National Geographic
---
3.) Michele Bachmann hangs with KLG and Hoda.
The worst part of Bachmann's string of television appearances this week is that it's clear Kathie Lee wants to be best friends with the wide-eyed politician. Well, that, and the whole Roots/Fallon/Late Night debacle, of course.
---
4.) Drake's televised relationship therapy session.
Chelsea Handler was quick to ask about the inspiration for the musician's songs, and it took almost no time for Drake to admit that it's awkward to be listening to songs he wrote about his ex-girlfriends with his ex-girlfriends.
---
5.) Nathan Fillion does not take morning show interviews seriously.
To be fair, I'm sure he realizes the sole purpose he's on Good Morning America in the first place is to plug his television series on the very same network, but he sure did make for an entertaining interview.
---
6.) Jerry Hall has Kankles.
At least according to Ellen Barkin, she does! We hope Jerry's not too mad about this little exchange, but really, how can you blame anyone for the words they say in Andy Cohen's house of booze?
---
7.) Jason Priestly had to shave twice a day on the set of Beverly Hills, 90210.
Similarly, he was freaked out my his "Dad Jeans" in the photo of the season one 90210 cast that Wendy Williams aired. Even better is his reaction to the news that his former on-screen sister had just recently gotten married again.
---
8.) That awkward moment when Mary Steenbergen admits she used to have the hots for your husband.
Reeeelax, Julie Chen! Mary's got Ted Danson at home — even if she is a little miffed about her hubby's recent appearance on the afternoon talk show in which he spent the whole interview in bed.
---
9.) The seductive sound of Will Arnett's deep voice.
Even Jason Lee cant help but mimic it in hopes of sounding more "manly."
---
10.) Barbara Walters would rather not have Elisabeth Hasselbeck at her Thanksgiving table.
Can you blame her? It would be all "right wing" this, "gluten free" that — in other words, a nightmare.
---
Bonus: Snooki's tips for exfoliation.
After insisting she only uses a brand new package of cat litter to clean her face, Conan asks her if she's at all concerned with the chemicals that also reside in cat litter. The stunned look on her face is pretty damn priceless. Don't try this at home.
---