In this week's TV roundup, a vampire and her maker breakup on True Blood, "Imma let you finish" comes full circle, the Alabama Shakes shake up Late Night and Sarah Palin sure loves her guns.
---
1.) Your Newest Ship: Nellie and Blake from The Glee Project
Let me let you in on a secret. I unironically like The Glee Project. It combines teenagers, singing, earnestness and Zach Woodlee — all delightful and entertaining things. And then there are adorably cheesy moments like this. FYI, a brief search of the web shows that the kids of Tumblr are on this Nellie and Blake thing like white on rice.
---
2.) Jay-Z interrupts Kanye mid-speech at the 2012 BET Awards.
Yeezy has a point. He was defending Beyonce, after all.
G/O Media may get a commission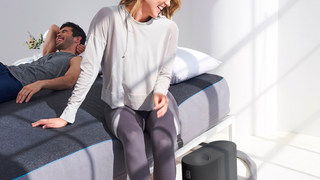 Eight Sleep Pod Cover
---
3.) Inside Conan is a real romantic.
You just have to dig through several layers of ham to find him.
---
4.) How come no one brought up that Drag U is back?!
I apologize. The only person I should be mad at is myself.
---
5.) Vampire Eric releases his progeny Pam on True Blood.
You know, this show has gotten so fucking goofy that I almost forgot how handsome ASkars is. ALMOST.
---
6.) "Walking to Work" with Scott Aukerman and Reggie Watts
Yep. Very normal and straight forward.
---
7.) No surprises here. The Palins love their guns.
When Sarah Palin guns down wolves from a helicopter, why shouldn't she use a gun that's also an adorable accessory? Also, Happy Birthday, Sarah!
---
8.) BrandX goes from bad to worse.
Oy.
---
9.) A workplace email gaff on The Newsroom.
Guys, Will's not an asshole. He's just a jilted lover and, whoops, everybody knows it.
(P.S. He is also just an asshole.)
---
10.) Let's ring in the weekend with some Alabama Shakes.
Do they come any more rock and roll than Brittany Howard?
---