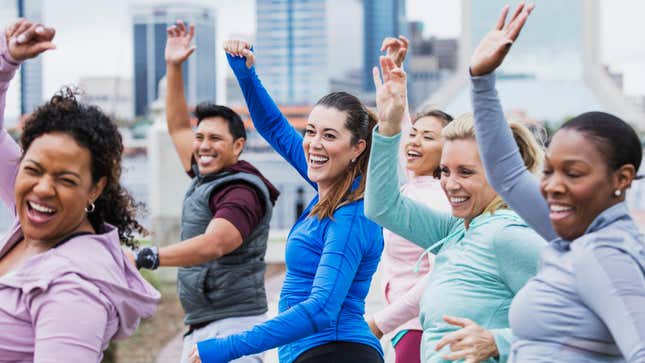 I can hear the Peloton instructor screeching already: "ARE YOU READY TO GRAB THIS YEAR'S FITNESS GOALS BY THE BALLS?"

I am ready to do no such thing, of course, but I am excited for the reminder to treat my body like a little cottage on the countryside I will inhabit for the rest of my life. My singular wish is for everyone to enjoy the capabilities of their own bodies, whatever those may be. But this month, above all other times of the year, the marketing stunts to seize on our insecurities are only set to grow louder and more obnoxious until we escape to the latter half of January.
The thing about those ploys to claw you into the grips of boutique fitness is that they generally set most people up for failure. You're likely to be abducted by an aspiring cult leader masquerading as a fitness instructor (looking at you, SoulCycle), sucked into a group of moms using My Fitness Pal to count their calories, or bullied into believing that your body is only worthy of praise if it dips and rises in exactly the right places. So I've collected 10 of the most popular (or weird!) workouts, from most cringe/douchiest to my personal happiest place on earth for anyone who took a month—or maybe a year—off of exercise for any reason under the sun and wants to feel strong again.
This is a ranking based on vibes and openness to beginners, with extra (metaphorical) points given for patience, slowing things down, and explaining proper form. I want to get physical with you, baby! And I also don't want you to get hurt or psychologically scarred.
To the mats we go!