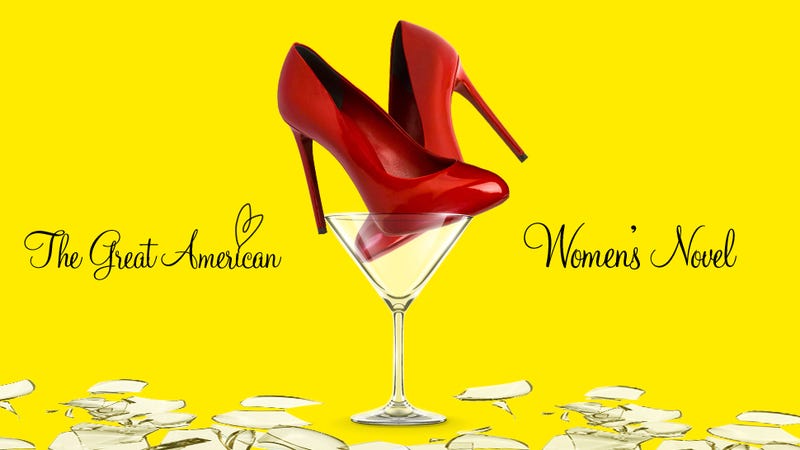 A lot of women people (as opposed to men people, or just "people") are upset that Wikipedia editors have created a subcategory for "American Women Novelists." But I'm not. I'm stoked! This could be the best thing that's ever happened to women novelists like me.
First of all, I can stop competing with Jonathan Franzen. Franzen has been a real pain in my lady parts, and now that we're not in the same category, I can stop feeling so awful about my writing. While I knew in my heart's core we would never be in the same league, now we're literally never going to be in the same league. Such a relief! I mean, for real.
B.) There's also less competition within my segregated field. Because fewer books by women are published, I have a higher probability of success. (That's how math works, correct?) Like my woman parent always says, "It's easier to win when everyone else is losing. Now let's go clean the toilet!"
Apparently the list of "American Novelists" is too long, so I see why subcategories are necessary. It's like when my inbox is too full and I have to archive certain emails and forget about them forever. (I have email folders for "Etsy Sales," "Sephora Sales," "The Atlasphere: Ayn Rand News, Dating & Social Networking Newsletters," and so on.) Organization and labeling are supreme virtues, above most other less supreme virtues like equality and fairness. I'd like to see Wikipedia continue this helpful sub-categorization. "American Women Comedians" is an obvious one.
I was immersing myself in women's literature the other day—by that I mean I was reading a cookbook—and that's when I knew what I should do. I will write the next Great American Woman's Novel. It'll be part romance fiction/journal/doodles/musings/sestina about kittens and friendship/an illuminating treatise about the way we live now/word cloud, and it will cover the typical subject matters women write about: marriage, motherhood, yogurt, dating as a competitive sport, emotional warfare, housework, tampons, rainbows, midwifery, gardening, hysteria, beauty products, weight gain, weight loss, the art of being shrill, divorce, magic, and light bondage.
One chapter will be an audio file of Taylor Swift songs.
One chapter will be just emojis.
One chapter will be my grocery list.
One chapter will be a link to my Pinterest page.
One chapter will be manufactured with drops of my blood, sweat, and tears.
One chapter will be me making a sandwich for all the "American Novelists."
If I have any deep, universal, logical thoughts or opinions, I'll write them down on Post-Its and then chew them up and swallow them to maintain the illusion women don't write about those things.
Of course I'll write TNGAWN with BIC for Her pens, designed to fit a woman's hand. The XY pens I'd been using were heavy and obstructed my flow of words, but BIC for Her's comfortable and innovative design makes writing a pure pleasure. The pink one is for writing thoughts I'm thinking and the purple one is for feelings I'm feeling. I've outsourced the typing to a man helper to whom I pay 30 percent more for the work than I would ask to be paid were I employed as an outsourced typist.