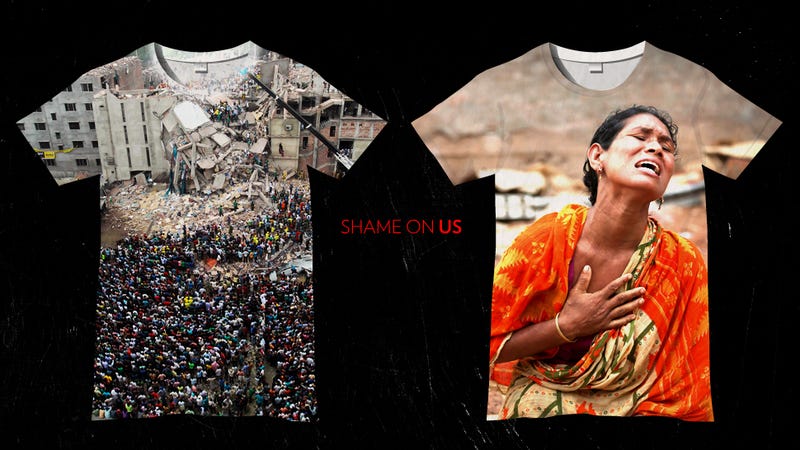 The spate of preventable industrial disasters in Bangladesh has focused the attention of the media, and many consumers, on the conditions under which our clothing is made, both in that country and in the other low-wage economies that most retailers now rely on to keep their racks filled with cheap clothing. Although Bangladesh has a very sad history of garment worker deaths — more than 600 workers have died in factory fires since 2006 — two sad recent incidents caught the world's attention.
First, last November, came the Tazreen factory fire that killed 112 garment workers. And then this April, the Rana Plaza building, housing several factories collapsed, killing 1,129 people. Most of the victims were women; a number were children who were crushed to death in the building's day care center.
Labels for Wal-Mart house brands were found in the ashes at Tazreen, even though the company denied it ever contracted with the factory. (It later emerged that Tazreen was on a list of approved Wal-Mart suppliers, despite the fact the retailer had flagged it for safety violations during a recent inspection.) Wal-Mart also manufactured in one of the factories housed in the eight-story Rana Plaza building. So did brands including Joe Fresh, Mango, Primark, Benetton, and the Children's Place. Less deadly incidents are also common: just today came the news that 450 workers at a knitwear factory near Dhaka were hospitalized after the factory's drinking water became contaminated.
Bangladeshi labor activists, including the former garment worker Kalpona Akter, point to numerous examples of lax safety standards and oversight. Akter was fired from the factory she'd worked in since the age of 12 when she tried to organize her colleagues to ask for better working conditions — she and her fellow workers were pulling 100-hour weeks for wages of $6 per month. These sweatshops have fire extinguishers that don't work — they're just for show during "inspections" by foreign retailers. They have emergency exits which are locked. They have scripts that instruct employees on the responses they should give corporate auditors: the correct number of hours they should admit to working, the safety equipment used, the emergency exits. "We know the government is complicit in all of this," says Akter. Child labor, though illegal, is widespread.
The construction of Rana Plaza itself should never have happened: the building lacked the necessary permits, its foundations lay in swampy ground, three floors had been added illegally, and more floors were in the process of being built when the collapse occurred. The morning of the disaster, employees called managers' attention to sudden cracks that had appeared in the building's walls and foundations, but they were ordered to begin their workday anyway. "A half-hour later," says Akter, "the building collapsed."
There is a safety accord for the foreign brands that use Bangladesh as a source of cheap labor that addresses many of these issues. Forty-three companies in the U.S. and Europe, including PVH (which owns Tommy Hilfiger and Calvin Klein), H&M, Marks & Spencer, Debenhams, and Joe Fresh parent company Loblaws, have signed the accord, and agreed to pay higher wages, submit to strict, independent safety audits of their facilities, pay to bring factories up to standard, and to allow workers to organize to improve their conditions. That last condition is crucial to improving safety in a country where union leaders have been subject to official intimidation, beaten, and murdered. The retailers who haven't signed, however, argue that the reforms that are so clearly necessary shouldn't be up to them, and are properly the province of the Bangladeshi government.