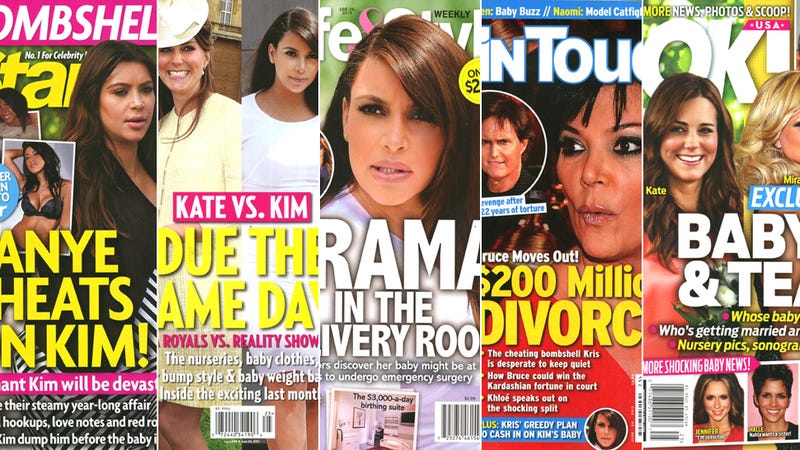 Welcome back to Midweek Madness! Every Wednesday, Kristine Gutierrez pops over to the newsstand to buy the latest issues of In Touch, Ok!, Life & Style, Star and Us. Then, together we attempt to find needles of truth in haystacks of gossip. This week: Summer will be babymania since Kate Middleton and Kim Kardashian have the same due date; Alexander Skarsgard is sad and lonely and dreaming of a wife; and Zac Efron and his stripper ladyfriend would like to cuddle with you, preferably in the nude.
---
Ok!
"Baby Joy And Tears!"
Apparently there's nothing going on in the world of celebrities, so Ok! profiles two pregnant celebs and one maybe-most-definitely-not pregnant celeb. This is an "EXCLUSIVE" story, despite no real news about Kate Middleton's amazing pregnancy and Kim Kardashian's stressful pregnancy and Miranda Lambert, who will make a great mom when she decides to get pregnant. If she does. How this is "exclusive," "shocking" "baby news" (as stated on the cover) remains a mystery. Blake Lively is trying to be the perfect wife, even going as far as matching her schedule to her husband Ryan Reynold's. Khloe Kardashian had i-Lipo, which is liposuction via iPhone? No, apparently, it's a non-surgical laser treatment that trims all the shameful fatty fat. Finally, Snooki and her baby daddy Jionni might get married in Disneyland. Snooze snooze snooze.
Grade: F (diseased hypodermic needle)
---
In Touch
"$200 Million Divorce"
Don't be fooled: No divorce papers have been filed. But Bruce might divorce Kris and some random divorce attorneys say that he could get mad bank, if he did. Bruce has apparently moved out, but that might just be because the show's plotlines are stale? Next: Amanda Bynes is "gunning" for Liam Hemsworth by trying to emulate Miley Cyrus. One of the more hilarious fake stories ever. If getting a buzzcut and smoking pot makes you a Miley copycat, then Brad Pitt, Rihanna, Justin Timberlake and most lacrosse teams are all wannabe Mileys. (Fig. 1) What else? Naomi Campbell's protégé model Lou Zilin has been nuzzling up to Naomi's billionaire ex-boyfriend. Uh-oh. Cell-phone throwing threat level alert: HIGH. Jennifer Aniston wore the same Prada dress twice in public and looks much "fuller" now than when she wore the dress in 2011. Pregnancy or dinner??? (Fig. 2) Farrah Abraham got another boob job (are you keeping count?) and has shelled out a total of $30K for all her plastic surgery. FYI, she also hates it when she sees a hot guy with an ugly girlfriend. Finally, on Kanye's birthday, Kim was stuck at home making a collage of their relationship. Sweet or serial-killer-esque?
Grade: D- (swallowed sewing needle)
---
Life & Style
"Drama In The Delivery Room"
Looking at this cover you might believe that Kim Kardashian had to get emergency surgery to remove her baby while her family rushed to her side. Hurray! The Kimyeby has been released! Wait a minute. Inside, the report is that Kim might have to get a C-section because her baby is big. That's the "emergency surgery." And don't you love how the cover cries, ALL THE DETAILS OF THE BIRTH, when the birth has yet to happen? The mag also recycles old photos and ideas from the last gadzillion issues and attempts to prove that Kanye West is an awful, over-controlling boyfriend who does not approve of a C-section since his mother died while in surgery. Sigh. Moving along… Katy Perry used Robert Pattinson for friendship but really to make John Mayer jealous. Adam Levine wants to get married. Not really, but he is talking about it, which means he will be marrying his 21-year-old girlfriend Nina Agdal! JK, they're just fucking because that is what Levine does. Lastly: The picture of Amanda Bynes and Liam Hemsworth snuggling up to each other is from 2009 and is a super blurry photo of a hunky guy with a blonde girl, so who the fuck knows.

Grade: D- (terrible scratch from a broken record player needle)
---
Star
"Kanye Cheats On Kim!"
As discussed earlier, a Canadian 'model' named Leyla Ghobadi claims that on July 6, 2012, she attended a Kanye West show in Atlantic City, where bodyguards ushered her backstage and Kanye asked her if she wanted to go for drinks. Kim was in the audience at the show but did not stick around; Leyla says she and KW talked for hours and "hit it off great." He invited her back to his hotel room but she declined. So he gave her tickets for the next night's show. And the following evening, he invited her to his hotel room again, and she went. Leyla says: "We began to make out for a while — and the next thing I knew, we were both naked and having sex." Apparently her clothes just disintegrated? Anyway, Leyla says they met up again in October, when Kim was at least a month pregnant, and that he contacted her again since he was supposed to perform in NYC on June 7 and 9. The story contains zero proof and Kanye denies the accusation, so truckload of salt, ok? Also inside: Katy Perry is attracted to Robert Pattinson but also still has feelings for John Mayer, what to do? Lady Gaga has lost 30 lbs. and is back to wearing bikinis with heels post-hip surgery. Megan Fox's hair is falling out after she had to dye it red for her role as April O'Neil in the TMNT movie, but producers hated it and sent her for a redo. Stacy Keibler and George Clooney have "finally hit their expiration date." Justin Theroux and Jennifer Aniston spend their days at home naked. J'Anthrax nudist colony, population: 2. In news you can use, Alexander Skarsgard is "incredibly lonely" and "sad and disconnected" and "needs a wife." A Zac Efron story titled "Zac Likes 3 In The Sack!" claims he's been schtupping a stripper — sorry, DANCER — called Lisa (not her real name) while shooting a movie in Austin and keeps trying to get women to join he and Lisa in bed: He really wants a threesome. Two different ladies he propositioned on different occasions claim Zac would be in bed with Lisa and beckon the third party over, suggesting they all "cuddle." One says he tried to push her together with Lisa "like we should kiss," and another says "he started rubbing my thigh and said, 'Stay here and cuddle with us.'" Neither of these upstanding young ladies complied, so if you're into threesomes, please contact Zac and Lisa. Finally, apropos of nothing, Louis Bullock is awesome. (Fig. 3)