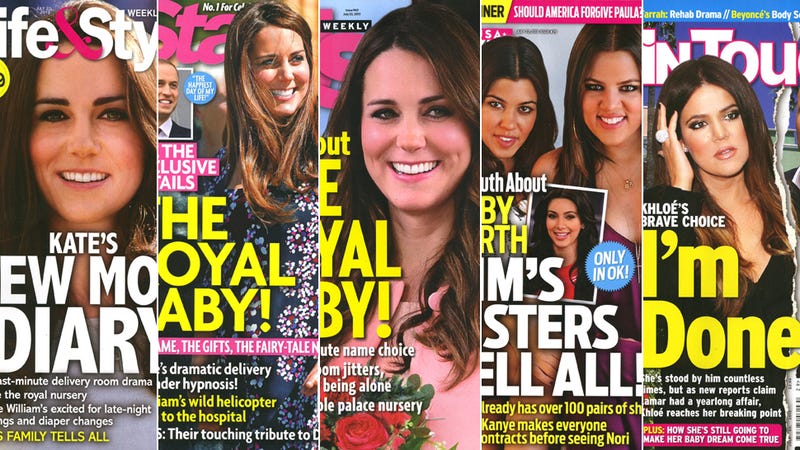 Welcome back to Midweek Madness! Every Wednesday, we don our swimming costume, head to the newsstand and dive into the deep, refreshing waters of the new celebrity tabloids. Kristine Gutierrez assists as we wade into Ok!, In Touch, Life & Style, Us and Star. This week, three out of five mags jump the gun on the royal baby; Denzel Washington is "caught" cheating; and Lamar Odom is being accused of cheating on Khloe Kardashian. Again.
---
Ok!
"Kim's Sisters Tell All"
In which Ok! pretends that Khloe and Kourtney Kardashian snuggled up in the magazine's office to spill secrets about Kim's life as a new mom. But the fact that "family insider" or "inside source" are more frequently cited than the sisters means all the quotes and details are potentially LIES. The mag alleges Kanye made everyone, including Kourtney and Khloe, sign nondisclosure agreements to keep details on North private, so um, did the sisters break the NDA for Ok!'s sake, or did the NDA never exist in the first place rendering every detail in the mag completely invalid? The exclusive details are that both sisters are super thrilled about Kim's joyful bundle. HOW ODD. Moving on: A "source" reveals that Jessica Simpson put her husband-to-be on a sex ban because she doesn't want to get pregnant again. Birth control? What's that?
Grade: F (falling into a sewage tank)
---
Life & Style
"Kate's New Mom Diary"
Kate Middleton is not a new mom (yet) and she most definitely did not write an intimate, personal diary and then somehow slip it to the magazine. Inside, the cover story screams "Kate's Baby Joy! Her First Days as a Mom," which is stupid since her first days as a mom have yet to happen. The actual piece is bone dry with recycled material such as: Kate's excited! Everyone's excited! Revalatory. Next: Kanye West and momager Kris Jenner are in a battle over how to introduce North to the world. Kris wants a deal with a major magazine so she can cash in on her granddaughter; Kanye's all "I'M NOT A CELEBRITY." In other news, Ashlee Simpson is perhaps dating Diana Ross's son, who is a cutie-pie. Finally, everyone's talking about George Clooney and Stacy Keibler's split. Yawn.
Grade: D- (wading into stagnant, algae-choked pond )
---
In Touch
"I'm Done!"
Everyone, Khloe Kardashian is DONE. With eating carbs? With life? No: The Photoshopped paper rip on the cover means that she is so over her husband Lamar Odom. They have been separated by the legal contract of fake-torn paper. Inside, the story claims that Khloe is pissed over Lamar's flirty behavior and visits to strip clubs. Furthermore, there are "cryptic reports" that claim that Odom has been engaged in a yearlong extramarital affair. We doubt that she ever yelled "I'm DONE," since that is the intellectual property of Sammi from Jersey Shore. Let's move on. In an interview, "Mama June" Shannon of Honey Boo Boo solidifies the fact that she is super proud of her body, which is an attitude she intends to instill in her children. BTW: The Table of Contents insists that there's a story about Glee's Naya Rivera and her "barely recognizable" look on page 37, but there's no article or photo of Rivera. Not on page 37, not on page 36 or 38; nowhere. WHERE IS THE STORY?! [Update: It is rumored that the story on Rivera ran away from the incredulous pages of In Touch and is living out its days in Ecuador.] Finally: Our latest crush Alex Minsky is featured in this issue! (Fig. 1)