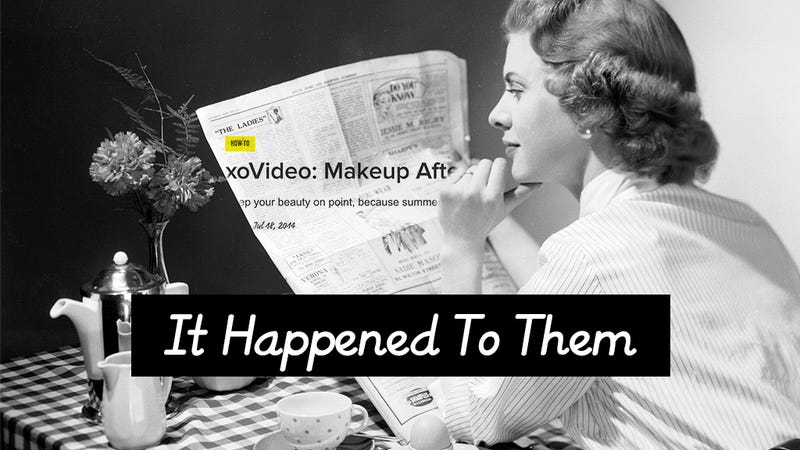 In December, we learned that xoJane's legendary founder, Jane Pratt, was leaving the company and that the famously controversial personal essay hub would fold into InStyle, signaling the end times for the overly confessional hate-read. (Hearst's The Mix, more or less cut from the same cloth as xoJane, quietly died last summer.) Throughout the years, xoJane continually found itself in the spotlight, usually due to some absurdly controversial first-person essay published by a contributor—hall of famers include "My Former Friend's Death Was a Blessing" and "My Gynecologist Found a Ball of Cat Hair in My Vagina."
It was always a bumpy road for xoJane, and not just due to its content. A year after Say Media, xoJane's original owner, announced it would sell all its sites, Time Inc. acquired xoJane and its beauty site xoVain in late 2015. Thanks in part to Jane Pratt's media prowess—the outspoken Sassy founder, once perfectly parodied in an episode of Daria for the way she exploits a certain brand of adolescent edginess—knew how to make headlines. Founded in 2011, xoJane has been a media fixation since its inception. The site's cartoonishly controversial content immediately became great fodder for not only feminist blogs, but less women-centric sites like Slate, Salon, Mediaite, and our late sister site, Gawker. The site played a key role in defining what content for women looks like on the web—something Slate once called "the first-person industrial complex."
Make no mistake: many of these essays were rather exploitative. The site asked women to give up their most personal stories—tales of getting raped, the death of their loved ones, and ectopic pregnancies—and compensated its contributors, who were often women, with a measly $50. The recurring "It Happened to Me" column was usually home to these confessional pieces. Mandy Stadtmiller, the vertical's former editor, later said her experience working there was like being a "first-person human trafficker."
In an essay for The Daily Beast on the end of xoJane, Stadtmiller wrote that even she thinks "the site's death is a blessing." Former xoJane writer Anabelle Bernard Fournier told Stadtmiller that xoJane was a part of a "first-person industry" that commodified "women's stories for commercial gain."

"It's not about the quality of the writing or connecting personal experiences with the human condition anymore," Fournier said. "They're not essays: they're anecdotes."
Even at their worst, the "anecdotes" that xoJane centered its identity around always sparked lively online debates. It provided readers and other members of the media with an infinite stream of hate-reads, some more fun than others. xoJane's death reminds us that the excessively spicy takes and oversharing that were once hot commodities online are no longer as relevant. Perhaps we're becoming numb to controversy.
The fall of xoJane doesn't mean we've suddenly started only taking in primo content online—but the internet's trends rise and fall, and the first-person industrial complex appears to be in its decline. So to honor the death of xoJane, let's take a tour through its biggest moments.
---
xoJane Hires Cat Marnell
Shortly after the site launched in 2011, xoJane introduced the world to the at-first-entertainingly drug-addled Cat Marnell, who used her position as the site's Beauty and Health Director to tell the world about her love of angel dust and trying out the type of bath salts that can allegedly inspire face-eating. The site capitalized on Marnell's openness about her various drug addictions and her willingness to do virtually anything, publishing blogs like, "I'LL TRY ANYTHING ONCE: Kleenex Eating For Appetite Suppression!" Seemingly unconcerned with its beauty editor's serious substance abuse issues, they took her gritty (and giddy) drug tales, beauty tips and musings on her Adderall addiction and gave them a massive platform.
xoJane propelled Marnell into internet infamy and lined up a $500,000 book deal for her. Marnell's memoir, How to Murder Your Life, was released just a month after the site shuttered.
Professionalism is overrated, but letting your employees snort bath salts for content just might be overkill. The number one rule of the online media business: You can't profit off the suffering and pain of your employees forever.