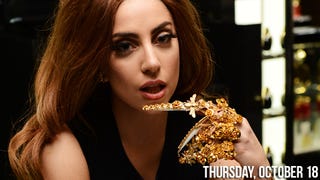 Good thing you didn't hold your breath waiting for the sequel to the 2001 comedy Zoolander, or else we'd be saying your eugoogly right now (sorry). But Zoolander 2 is coming around the bend now, I guess, featuring the return of Ben Stiller and Owen Wilson as male models Derek (who actually resurfaced recently at The…
Lucky's John Jannuzzi rounded up the fictional fashion designers he most wishes were real — including Edna Mode, Sue Ellen Crandall, and the enchanted sewing mice from Cinderella. For those who would be "more than a little curious to see Mugatu's work evolve."
Lady Gaga will serve as the "Music Director" for her pal and stylist Nicola Formichetti's first show helming the recently revived label Thierry Mugler. Rumor has it that Gaga will be unveiling songs from her forthcoming album. [WWD]
Jourdan Dunn's boyfriend of four years — and the father of her 7-week-old son — was just sentenced to three years in prison for dealing cocaine. Weirdly, his name is Jordan. [The Sun]
Stella McCartney's fall ad campaign makes a Bambijoke out of all that nature imagery that suddenly became hip over the past few years. For everyone who's ever considered an ironic taxidermy at a bar and concluded, "Why?" [WWD]
"Derek's son, Derek Jr. would be grown… Derek would have to be dealing with the fact that he is no longer a model." Casting ideas for Derek Jr.? Jonah Hill? Zac Efron? Ed Westwick? [EW]
The fall/winter collection Alexander McQueen presented yesterday in Paris was delightfully ridiculous: perfectly tailored leather sheaths; glittery hooded dresses; ladylike houndstooth severely cut; a feathered dress with cocoon-like eggshell collar. Plus! Soda-can rollers.
Okay, so they're saying Beyoncé had a little armpit hair at the Cadillac Records premiere. 1) Who cares? 2) Can you even see it? [Mirror]
A reader points out you can barely see Beyoncé's pit hair in Perez's pictures, though on TMZ, her pits seem especially hirsute. Photoshop of horrors? [Perez Hilton, TMZ]
Surely when…