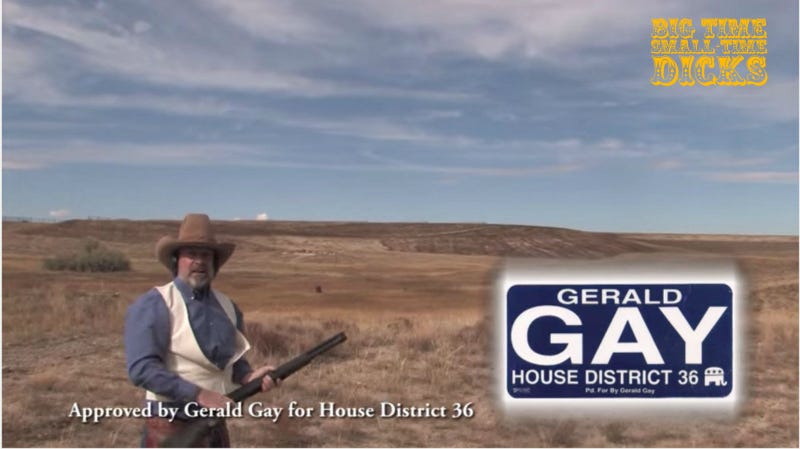 Welcome to Big Time Small-Time Dicks, a regular column on The Slot that explores local politicians, small-town scandals, and everything else making life miserable on a local level. Know a small time person who is a big time dick we should feature? Email us.

The capitol building in Cheyenne, Wyoming, is flanked by a large statue of Esther Hobart Morris, the first-ever woman justice of the peace in the United States. It commemorates the fact that she worked for Wyoming to grant women's suffrage before any other state. Wyoming is known as "The Equality State" for that…
The presidential election isn't the only nightmare awaiting us in November. Welcome to Congressional Cacophony, a feature on The Slot about House and Senate races that really, really matter. Suggestions? Pitches? Email us.

A husband and wife from Wyoming have been charged in the July 7 death of the woman's 16-year-old son, after encouraging him to drink to the point of alcohol poisoning. Joseph M. Richardson and Paulette L. Richardson thought they were teaching her son a "lesson" by having him drink until he got sick. An autopsy…
In Pinedale, Wyoming, a tiny burg in the Western part of the Most Western State of Them All, a new sheriff has imposed a dress code unto his charges, in that he wishes them to no longer wear cowboy boots and hats while they're on the clock. This was seen as such an extreme move, one police officer retired in protest.…
Liz Cheney has released her first campaign ad as she runs for Senate in Wyoming, a state she's trying to convince the public she has deep roots in. That's proved difficult, given that she moved back in the fall of 2012 from Virginia and has faced criticism that she should have run for office in the state she was…
We thought fetal heartbeat bills were sooo Ohio 2012. Wyoming legislators, however, did not get that memo. A new pair of bills seek to prioritize a woman's fetus's heartbeat over her own: Wyoming House Bill 97, which would bar abortions if an embryo or fetus heartbeat is detected, and Senate File 88, which would…
Is your house or apartment feeling a bit cramped, but you can't afford to buy a bigger one in a neighborhood you like? Well, why not consider buying yourself an entire town. There happen to be a few for sale that offer plenty of space to spread out, if not a lot of neighbors to hang out with. For instance, Buford,…
With so many states rushing to pass terrifyingly backwards anti-woman legislation, it feels a little bit like the apocalypse is right around the corner. Oh, and then there's the whole Mayan calendar mess too. So perhaps it's not the worst idea to begin preparations for a worldwide meltdown. Luckily for residents of…
Wyoming caucus tomorrow! Obama is expected to win. Because it's the home state of his distant cousin Dick Cheney? Nah, but I thought I'd use this bizarre picture anyway. [AP, Rolling Stone]