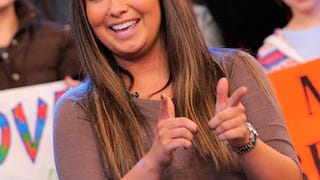 Bristol Palin reportedly wrote on her private Facebook page, "Tripp Easton Mitchell Palin… PALIN!!!" suggesting she's ditched "Johnston." The National Enquirer's salacious and possibly untrue claim: Levi agreed to the change on the condition of no more child support.
A New Jersey couple has lost custody of their children Adolf Hitler, Jocelynn Aryan Nation and Honszlynn Hinler Jeannie. An appeals court found they have unspecified physical and psychological disabilities, and the mother claims her husband threatened to kill them.
A pet insurance company has released a couple lists of the most unusual pet names, which leads us to ask: in the age old dog vs. cat debate, who wins this round? Molly Mcboozehound or Optimus Pants? [WashingtonPost]
According to the list of 2009's most popular baby names, parents are drawing inspiration from pop culture. Specifically, Twilight: Cullen skyrocketed in popularity and Isabella's the top girl name. But other celeb-inspired names are out, namely Lindsay, Kimora, and Rihanna.
Need a gift idea for that special hipster someone? Get him a "sport holster," from the aptly-named company Urban Tool. [BuzzFeed]
For over $1,500, a London-based translation firm will perform a "baby-name audit" for parents, checking the meaning of a name in 100 languages or more. According to their linguists, Suri means "pickpocket," "turned sour" and "horse mackerels." [Reuters]
Jeebus! According to a new study half of female respondents say that - wait for it - women should be mandated by the government to take their husband's name. We are...troubled by this:
Margaret Gelling, an expert on the arcana of English place-names and who described herself as a "neat, keen, merry woman...sensibly shod and clad," has died at 84. [Economist]
Heath Campbell, the New Jersey man who gave his children Nazi-themed names, claimed in a TV interview with MyFoxNY last night that the children are not being properly cared for while in state custody.
Adolf Hitler Campbell, the toddler who first made national news when ShopRite refused him a cake, has an entire article in today's New York Times devoted to his family and their current legal troubles.
Adolf Hitler Campbell, the 3-year-old boy whose name was deemed too offensive for a supermarket birthday cake, has, along with his two sisters, been taken into state custody. Wethinks we hear the pitter-patter of ACLU...
September's W magazine takes on the trend of increasingly obscure - not to say ludicrous - handles fashion lines have been sporting of late, band-style, a phenom they dub "the sartorial head-scratcher." As the article's author, Dana Wood, puts it, "there seems to be a pitched battle to come up with the most obscure…