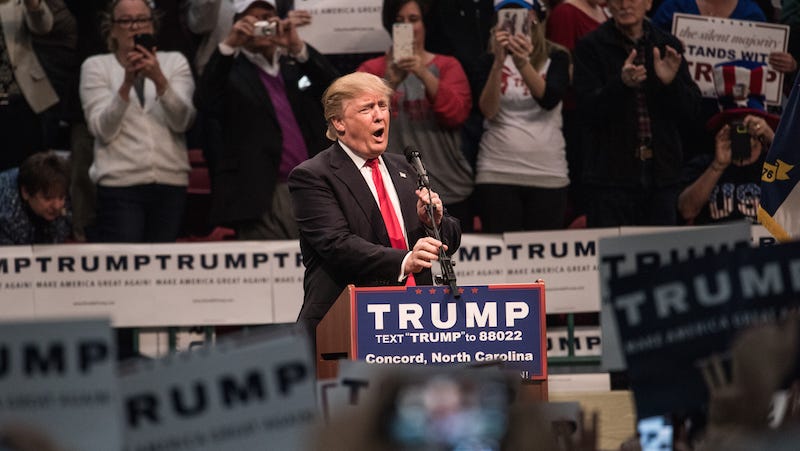 In an interview Thursday, self-tanning enthusiast Donald Trump tried to clarify some of his recent positions on abortion. The Washington Post reports that when asked whether or not he's ever dated a woman who had an abortion, Trump replied, "the answer is no."

Lover of Papa John's pizza and the internet's least favorite person, Iggy Azalea, released a new track, "Azillion." The first single from her new album "Digital Distortions," is a song, well, that exists. In either a threat or a promise, Azalea promised on Twitter that January would be filled with new releases,…
Miss Colombia Ariadna Gutierrez, she of devastating live television moments and Steve Harvey truther, is finally sharing her pain over winning—and then losing—the coveted Miss Universe crown.
Johnny Depp is no longer cool. He does, however, continue to be a marvelous eccentric, as made evident by his whimsical hats, abundance of jewelry, bad movie roles and recent excuse that he that he didn't show up for a scheduled press event because of a chupacabra attack. MY, HOW FANCIFUL.
Where is the physician outrage? Right. Here. I'm speaking, of course, about the required-transvaginal-ultrasound thing that seems to be the flavor-of-the-month in politics. I do not care what your personal politics are. I think we can all agree that my right to swing my fist ends where your face begins.
While Latoya has already done an excellent job dissecting the truly heinous remarks in John Mayer's recent Playboy interview, there was another aspect of the interview that I think warrants a discussion: namely, that John Mayer is a terrible ex-boyfriend.
The Onion has the story of three queen bees who have made construction workers, the entire Midwest, and even Barack Obama feel fat and "bo-ring." Of course, one of them's a Courtney. [Onion]
According to a recent poll, "whatever" is the most annoying word in America. Runner-up words and phrases included "anyway" and "it is what it is" — but the Jezebel staff have our own unfavorites.
As far as teenybopper pop stars go, Taylor Swift is probably one of the best. Her songs are catchy and filled with the kind of lyrics you would have written on your high school notebooks.
[Hollywood, July 22. Image via X17]