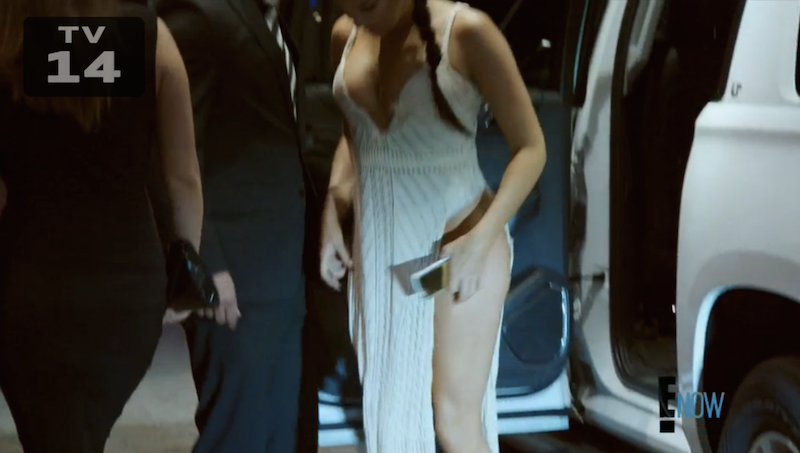 Tuesday night's episode of WAGS featured a garment that is truly not for the meek. Cast member Natalie Halcro rocked this little number which appears to be a crochet dress with two waist-high slits on either side.

The first episode of E!'s reality series WAGS (which stands for Wives and Girlfriends of Sports Stars), begins with an explainer about what it means to be the wife of an athlete. In case you're unfamiliar with these duties, it's laid out as such: Being your man's No. 1 fan, maintaining an opulent lifestyle and being…
Madonna went to Macy's yesterday with Lourdes and her "muse" Taylor Momsen to launch her Material Girl juniors' line. But that's just the start of Madge's licensing deal: Expect separately branded, grown-up geared lingerie and workout clothes next. [WWD]
Call girl Jennifer Thompson's parents have apologized to footballer Wayne Rooney's wife for their daughter's dalliances with her husband, but another player claims football culture is to blame.
More on the curse of women around the World Cup: England striker Wayne Rooney and his wife are off to Barbados today, but she booked the trip two days before England was ousted from the tournament. Such betrayal! [DailyMail]
The Daily Fail knows why England's World Cup hopes were crushed yesterday when it lost 4-1 to Germany: forward Wayne Rooney waxed his chest before the game.
One of the coolest things about being a blogger loosely connected to pop culture in a foreign country is that you don't feel bad not recognizing the faces on the covers of the women's magazines. Case in point: Denise Van Outen. Apparently she is renowned for flashing her boobs at Prince Charles, stealing an ashtray…