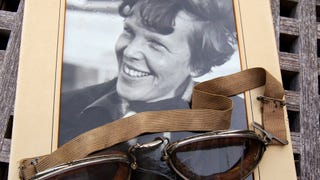 It's been more than two months since amateur aviation gumshoe Hillary Clinton accompanied members of The International Group for Historic Aircraft Recovery (TIGHAR) to investigate the possible wreckage of Amelia Earhart's flying machine on the remote South Pacific island of Nikumaroro, but researchers have now…
Although it's now recognized that the body can in rare cases hold the products of abdominal pregnancy and "parasitic twins," in the 16th Century a "23-year-old baby" was the cause of wonder, fear, and debate. (No, that's Benjamin Button.) [NewScientist]
Have you heard the news? Romance is dead, and feminism is the culprit. We decided to come to her defense and suggest a few other possible perpetrators.
In 1981, a hiker came across her corpse in a cave, surrounded by cutlery, a toothbrush, jewellery, and a vinyl record of "The Last Waltz." Police deduced that she'd been dead 12 years. Now, the case has been reopened.
A woman is claiming that her late father was the Zodiac Killer, and that she accompanied him on two of the murders and wrote one of his letters. Not surprisingly, many Zodiac buffs are skeptical.
We've recently become fixated on Connie Converse, a 1950s folk singer whose work has just been rediscovered. Converse, who'd long since given up her musical dreams, disappeared in 1974. [NPR]
The great minds at Slate tackle the brainteaser that is how the fuck Nicole Richie, whose body mass index is apparently a "prepubescent" 16, got knocked up. According to the story, the very lowest a woman's body mass index can fall without losing all the gross bodily functions that make us women is 17, and it should…