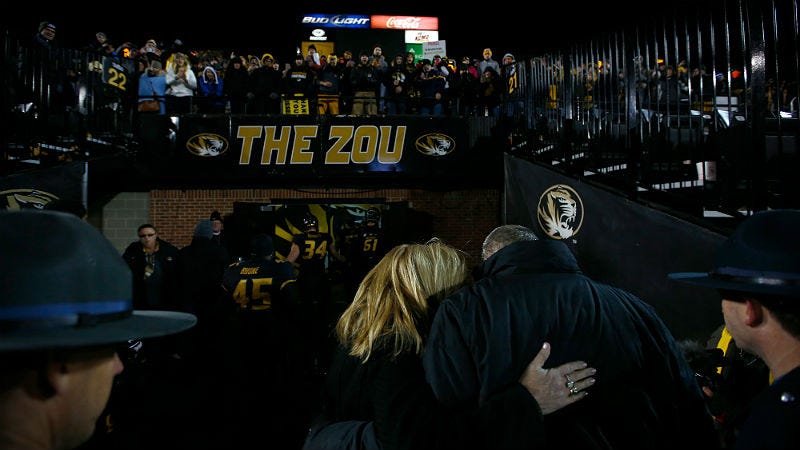 In Missouri, a local Republican is pitching a law that would strip athletes of their scholarships if they participate in protests. The legislation is a response to the University of Missouri football team refusing to play during recent student civil disobedience at their Columbia campus, and a very bad response at…
After Tim Wolfe stepped down earlier this week, the University of Missouri has appointed an interim president. Michael Middleton was chosen by the school's governing board on Thursday.
University of Missouri police announced Wednesday morning that they have arrested the person responsible for making graphic threats on the campus gossip app YikYak and other social media platforms. There's little information about the suspect yet; police have only said the person was "not on campus."
After massive outcry following the University of Missouri's failure to respond to several racist incidents on campus, the university's chancellor R. Bowen Loftin has announced he will transition out of the position. This comes just hours after the school's president, Tim Wolfe, announced his resignation.
The University of Missouri's system president Tim Wolfe is resigning after recent student protests over his failure to address racism on campus.
Following a school-requested investigation, the University of Missouri has acknowledged that they failed to properly address evidence indicating student Sasha Menu Corey had been sexually assaulted by a fellow student, an incident that appears to have led in part to her eventual suicide.
According to ESPN's latest episode of their investigative series "Outside the Lines", the University of Missouri failed to investigate the alleged rape of one of their students, a swimmer, by another student, a star football player. The victim, Sasha Menu Courey, struggled with mental illness so severe that a year and…
Mizzou basketball player Michael Dixon Jr. was accused of rape last August, but his charges were dropped due to "insufficient evidence," according to police, and because boys will be boys and she was clearly just a jealous slut who wanted his high-ranking D, according to popular belief everywhere. But this wasn't the…