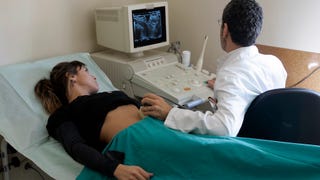 A massive new study has disproved the common conservative notion that women who want abortions are idiots who don't know what a pregnancy is; even after looking at ultrasounds, more than 98% of them went ahead with the procedure. And the ones who did change their minds were among a tiny sliver of abortion-seeking…
Between 2012's Race to the Dark Ages Republican primary contest, dozens of new laws designed to punish and humiliate women who choose to have abortions, and the bizarre debate over which women deserve protection from violence under the Violence Against Women Act, it's pretty clear that if the old men who serve as…
Undaunted by public outcry against Virginia's mandatory ultrasound law, lawmakers in several other states have taken up the mantle of solving their respective stomping grounds' whatever crises by restricting how much choice and control a woman has over her body. Here's a little breakdown of the shit sandwiches your…
One of Rick Perry's legislative victories as governor of Texas was a law that fined doctors unless they offered to show sonograms to women seeking abortions, described fetal development in detail, and offered up audio of a heartbeat. Now a judge says that's unconstitutional.
Laws requiring or strongly suggesting that pregnant women get ultrasounds are already on the books in eighteen states, according to Guttmacher (pdf) but one Michigan lawmaker has decided to join the innovators. His bill would require an ultrasound, as well as the offer of a description of the image, the option to…
It's not your imagination: Abortion rights are under assault in the U.S. as never before. And you can thank a 2007 Supreme Court decision for the state-by-state onslaught.
"This is a bill that empowers women,'' said Louisiana state Senator Sharon Broome. She was talking about a bill finalized yesterday that requires women seeking abortions to get ultrasounds — even victims of rape and incest.
New ultrasounds of babies breastfeeding reveal that infants don't milk the nipple so much as they suck it, like tiny, super adorable vacuums. Click through to watch an ultrasound video that explains the mechanics of dinnertime. [New Scientist]
Look familiar? A British couple was checking out an ultrasound of their unborn 7th child when they spotted Michael Jackson's face in the shadows of the scan. "They say seven is a mythical number," notes mom Dawn Kelley. [Telegraph]