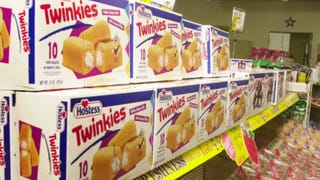 Twinkies are back. No one should be surprised. It's obvious that the Twinkie would reemerge from the maws of death like a creme-filled Lazarus because each Twinkie is built to outlive us all. After the apocalypse, the Cockroach King's palace will be built out of Twinkies. He will sleep on a bed made out of a Big Mac.
Bad news for people who like shitty, bland, nutritionally-void food made by ethically questionable companies: Hostess, the food manufacturer behind Ho-Hos, Wonder Bread, and Twinkies, has filed a motion to shut down and sell all assets as soon as possible, citing the financial blow dealt by the recent strike…
Today in Lessons We Don't Necessarily Need To Learn: a Kansas State professor shed 26.2 pounds while feeding primarily on Twinkies, Doritos, doughnuts, and other treats high in saturated fats for 10 weeks. Oh, and his cholesterol went down, too.
• The Twinkie is the
newest junk food item
to be remade and repackaged in 100-calorie snack packs called "Twinkie Bites." • A Quebec entrepreneur has created a for the single and approachable to help other singles find an eligible mate in a world where marriage is becoming less and less common. • A woman born with a